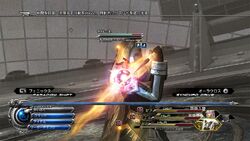 Sadistic Surge (サディスティック=ドライブ, Sadisutikku Doraibu?, lit. Sadistic Drive) is a recurring ability in the series. It is an ability used by Jihl Nabaat. The user first charges their weapon with energy while gathering an orb of violet energy in her free hand, then following with a series of quick slashes followed with rapid stabs, an uppercut which launches a target into the air, and firing the energy orb at the target causing a violet Ruinga-like explosion.
Appearances
[
]
Sadistic Surge is Nabaat's Feral Link with input type Multiple and button order ←→↓←. When Sadistic Surge is used when Nabaat is a Paradigm Pack ally, it gains additional effects depending on the player characters' roles in the active paradigm: Bravery with a Synergist, Bravery and Shell with two Synergists, Protect with a Sentinel, Protect and Shell with two Sentinels, damage boost with Commandos, chain boost with Ravagers, HP recovery for Nabaat and a small damage boost with Medics, and increased wound damage with Saboteurs.
Gallery
[
]
Etymology
[
]
[view · edit · purge]"Sadist" is a term used when talking about person who derives pleasure through cruelty or pain to others. The name is derived from the word sadism which is in turn derived from a name of a French aristocrat, revolutionary politician, philosopher and writer, Marquis de Sade.
[view · edit · purge]"Surge" is a word used in various contexts. The terms when the word "surge" is involved include: a sudden transient rush, flood or increase; sudden electrical spike or increase of voltage and current; swell or heave of the sea, and maximum amplitude of a vehicle's forward/backward oscillation.