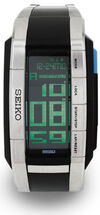 The limited edition Final Fantasy Watch is a wristwatch produced by Japan-based watch company SEIKO to run parallel with the release of the film Final Fantasy: The Spirits Within. There are 1,000 pcs of this watch for Japanese version, but no confirmation for the amount of US version out there.
Based on the design of Aki Ross' Wrist Halo, the watch operates as a stainless steel wristwatch with a polymer case and deployment clasp. It was released in 2001, selling at around $200 in both the US and Japan. It came with a 3-year US warranty with SEIKO.
The features are as follows:
Four Modes: Time, Chronograph, Countdown, and Alarm
12 or 24 Hour Time Displays Year, Month, Date, Hour, Minute, and Second
Daily Alarm Function
Fully Automatic Calendar through 2046
1/100 Second Chronograph Counts up to 10 Hours with 8 Record Memory
One of Four Preset Countdown Timers, or Countdown Timer of User's choice
Electroluminescent backlighting
Stainless and Polymer Case and Stainless and Urethane Strap with Adjustable Folding Deployment Clasp
100 Meters Water Resistant
Community content is available under
CC-BY-SA
unless otherwise noted.