A young girl of blessed circumstance who places her trust in those not of this world.

Description
Rydia, sometimes referred to as Rydia of Mist, is a playable character in Final Fantasy IV and its sequel, Final Fantasy IV: The After Years. She is a Summoner from the village of Mist, and is one of the most prominent characters in the game.
Profile
Appearance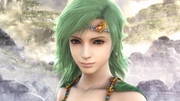 Rydia is introduced as a seven-year old girl wearing a yellow skirt and a white cloak. In her sprites her clothes are blue, while they are black in Yoshitaka Amano's artwork of her, and dark green in her 3D remake model. Following her return as a young woman, Rydia wears a green outfit with knee-high golden heeled boots and draperies adorned in stars. During Final Fantasy IV: The After Years, Rydia's attire is a single-piece green outfit that rises from her thighs to her collar, baring her hips and upper torso.
The overseas releases of The After Years censored her artwork, which included a green skirt, and covered the exposed areas of her body, as was done with Porom and Ursula, but Rydia's artwork received the most censorship. The opening movie for Final Fantasy IV The Complete Collection uses this design. Rydia's hair is green, shoulder-length in Final Fantasy IV and extending past her waist in The After Years. It is often complemented by a hair ornament which has varied in design.
Personality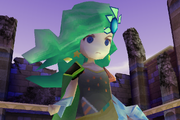 At first, Rydia is devastated by her mother's death and unleashes her rage on Cecil Harvey and Kain Highwind, despite their attempts to help her, but after Cecil comes to her defense later Rydia bonds with him. Traveling with Cecil, Rydia sees the world and matures, telling Edward to stop crying as she has chosen not to cry. Rydia overcomes her fear of fire after melting a blockade of ice at Mt. Hobs with the Fire spell.
Rydia puts her past behind her in favor of stopping Golbez. Rydia comes to consider the Eidolons Asura and Leviathan her family, and even introduces them as her parents to Cuore. Rydia feels rejected and saddened when the two refuse to let her live in the Feymarch with them.
Story
Gameplay
As a Summoner Rydia has high magic stats but low physical stats and can summon Eidolons.
Abilities
Rydia can use Black Magic and learns every spell, up to and including Meteor, but she learns them later than Palom due to her emphasis on Summon Magic. As a child, she can cast some basic White Magic. When she returns to the party as an adult, she has forgotten these spells.
In the 3D remake version, Rydia can learn more White Magic as a child, and learns her later Black Magic at different levels. Rydia joins the party at Level 7, while she joins at Level 1 in all other releases, and thus knows several spells already. When she is reverted to a child during her Lunar Trial in the Game Boy Advance and PlayStation Portable releases, she can cast her White Magic while retaining all her Black Magic.
When Rydia rejoins the party as an adult in the Dwarven Castle after beating Golbez, she automatically has Fira, Blizzara, Thundara, along with Cura. At this point, she no longer has the White Magic command and cannot use her White Magic spells. So Cura can never be used outside of her trial in GBA and PSP versions, when she'll lose Summon Magic and temporarily regain White Magic.
In all releases, Rydia learns her Eidolons the same way.
Equipment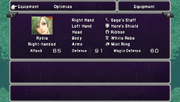 As a child, Rydia equips rods, staves, bows, daggers, and whips. As an adult, she loses the ability to equip staves. In the Game Boy Advance and PlayStation Portable versions, there is a loophole the player can use to equip the adult Rydia with a staff: when she transforms into a child in her Lunar Trial she regains her White Magic and the ability to equip staves, and will not remove any equipped staff she is given when the trial ends and she turns back into an adult. However, once the staff is removed it cannot be re-equipped without repeating the trial.
In the 3D remake, she cannot equip bows. Her armor is limited to universal equips and mage equips. In Final Fantasy IV Advance, equipping Rydia with the Mist Ring allows summoning the Mist Dragon to grant a Blink effect on the entire party.
Weapons

| Bows* SNES/PS/GBA/PSP | Daggers | Rods | Staves* Child only | Whips |
| --- | --- | --- | --- | --- |
| | | | | |
Boss
Rydia appears as the Girl in the scripted battle with Cecil and Kain in Final Fantasy IV at Mist.
Rydia appears for the final battle against Rydia?. She knows all her Black Magic up to Blizzaga, has all her summons except for Goblin, Bomb, Cockatrice and Mindflayer, and is equipped with a Stardust Rod. She has 1100 HP and 330 MP. Her level and full equipment except her equipped weapon are unknown, as the player cannot enter the menu while she is in the party.
Equipment
Stats
Rydia's MP and Intelligence are high, but her HP is among the lowest in the game. Compared to the other Black Mage of the game, Palom, Rydia's stats are inferior in all areas except for Speed and Spirit.
| Level | HP | MP | Strength | Speed | Stamina | Intelligence | Spirit |
| --- | --- | --- | --- | --- | --- | --- | --- |
| 15 | 330 | 175 | 8 | 11 | 7 | 19 | 14 |
| 20 | 490 | 217 | 11 | 13 | 10 | 23 | 18 |
| 30 | 911 | 302 | 16 | 17 | 15 | 31 | 27 |
| 40 | 1412 | 412 | 21 | 21 | 20 | 39 | 36 |
| 50 | 2007 | 537 | 24 | 24 | 23 | 53 | 40 |
| 60 | 2794 | 643 | 30 | 27 | 28 | 59 | 47 |
| 70 | 3422 | 722 | 36 | 32 | 34 | 65 | 64 |
| 80 | 3667 | 779 | 39 | 33 | 35 | 67 | 57 |
| 90 | 3748 | 824 | 40 | 35 | 37 | 70 | 59 |
| 99 | 3955 | 863 | 41 | 37 | 38 | 73 | 60 |
Abilities
Rydia retains her Black Magic, and her Summon ability, but she cannot summon anything as she loses all of her Eidolons at the start of her tale. With the exception of the Eidolons that are dropped by enemies, she cannot relearn them until The Gathering chapter, where the player must explore the world and defeat them. This is excluding Leviathan, Asura and Bahamut, who are fought and reacquired in the True Moon. The Chocobo Eidolon is also found in the Chocobo's Forest on an island west of Kaipo during The Gathering. Depending on the player's actions during the fights, it is possible Rydia may not relearn all her summons.
Band Abilities
Ability
Members
MP
Effect
Lightning Brain Buster

Rydia (Black Magic)
Luca (Attack)

7
Send a head-busting lightning-charged strike towards an enemy.
Thunderstorm* Will not carry over from Porom's Tale and must be relearned during the Final Tale

Rydia (Black Magic)
Palom (Black Magic)

25
A magical ice and lightning attack that targets all enemies.
Broken Heart

Rydia (Attack, Bow)
Edge (Attack)

25
Attack all enemies with emotion-charged arrows.
Inferno
40
Create a tornado of flame to attack all enemies.
Thunder Wave

Rydia (Black Magic)
Ceodore (Attack)

20
Blows away all enemies with the power of lightning.
Iron Flash

Rydia (Summon)
Cecil (Attack)

40
Cecil borrows the power of Odin to cut through all enemies.
Holy Burst

Rydia (Black Magic)
Rosa (White Magic)

55
Holy magical attack on all enemies.
Mirage Song

Rydia (Summon)
Edward (Bardsong)

35
Call Mist Dragon to cast Blink on entire party.
Sylph Protection

Rydia (Summon)
Yang (Attack)

17
Rydia calls Sylphs to drain enemies of strength and power up Yang. Casts Haste, Protect and Shell on Yang, and heals HP equal to total damage done to enemies.
Tri-disaster

Rydia (Black Magic)
Leonora (Black Magic)
Palom (Black Magic)

20
Cast a succession of powerful black magic.
Flare Tornado

Rydia (Black Magic)
Edge (Ninjutsu)
Luca (Big Throw)

15
Create a flaming whirlwind that strikes all enemies.
Wild Whip

Rydia (Attack, Whip)
Harley (Attack, Whip)
Izayoi (Attack, Whip)

4
Three fighters whip a single enemy repeatedly.
Call Me Queen

Rydia (Attack, Whip)
Harley (Attack, Whip)
Izayoi (Attack, Whip)
Leonora (Attack, Whip)

11
Whip and turn the enemy into a Pig.
Final Fantasy

Rydia (Black Magic)
Cecil (Fight)
Edge (Throw)
Kain (Jump)
Rosa (White Magic)

75
Attack all enemies and heal party with a powerful combination.
Infinity

Rydia (Black Magic)
Leonora (White Magic)
Palom (Black Magic)
Porom (White Magic)
Rosa (White Magic)

60
Five fighters combine to cast powerful magic on enemies and heal themselves.
Temptation

Rydia (Black Magic)
Harley (Gil Toss)
Izayoi (Illusions)
Rosa (Aim)

19
Surprise one enemy with an attack.
Equipment
Weapons

| Bows and Arrows | Daggers | Rods | Whips |
| --- | --- | --- | --- |
| | | | |
Armor

| Shields | Head | Body | Arms |
| --- | --- | --- | --- |
| | | | |
Musical Themes
"Rydia" (少女リディア, Shōjo Ridia?, lit. Little Girl Rydia) is the eponymous theme of Rydia in Final Fantasy IV and The After Years. When unlocked in the fat chocobo's Music Box, Edward comments it captures "her kind and gentle nature".

Other Appearances
A downloadable outfit, the "Mystic" costume, can change the main character Mira's appearance to Rydia's design from The After Years.

Rydia makes a cameo in her child form in Dissidia Final Fantasy as a tutor for the in-game manuals. She exchanges information on Summoning and Summonstones with Edward.

Rydia appears in Dissidia 012 as a tutor for the in-game manuals. As she did in Dissidia Final Fantasy, she explains Summoning and Summonstones, this time using her adult portrait and sharing her role with Edge.

A young girl from the summoner's village Mist. Emotionally scarred by the burning of her village, a ruthless massacre ordered by the king of Baron, she initially hates Cecil for robbing her of her home and her mother. But his gentle ways break through her shell and despite the complicated feelings he inspires in her, she will travel with the Dark Knight until she is swallowed by the summoned Leviathan.

Online description
Rydia appears as unlockable character obtained from collecting Green Crystal Shards. Her appearance is her child form based on her Yoshitaka Amano art.
She is a Spell oriented character.
Stats
| Level | HP | CP | Strength | Magic | Agility | Luck |
| --- | --- | --- | --- | --- | --- | --- |
| 1 | 198 | 13 | 11 | 20 | 14 | 15 |
| 10 | 788 | 18 | 24 | 45 | 33 | 34 |
| 20 | 1444 | 24 | 39 | 72 | 53 | 55 |
| 99 | 5250 | 50 | 127 | 234 | 172 | 179 |
iOS Stats
Rydia returns as an unlockable character, and is now unlocked by collecting Peach Crystal Shards. Despite still appearing as a child, Rydia does not get a size reduction, unlike Shantotto.
She is a Spell oriented character.
Stats
| Level | CP | HP | Strength | Magic | Agility | Luck | Stamina | Spirit |
| --- | --- | --- | --- | --- | --- | --- | --- | --- |
| 1 | 13 | 172 | 10 | 20 | 11 | 15 | 8 | 18 |
| 50 | 41 | 2969 | 79 | 161 | 89 | 120 | 63 | 140 |
| 99 | 50 | 4567 | 119 | 242 | 134 | 180 | 95 | 211 |
Abilities
Rydia appears as a summonable Legend in Final Fantasy Airborne Brigade. She is depicted in her default Final Fantasy IV child and adult outfits. Her abilities are Chocobo Kick and Radiant Breath.
This young summoner from Mist has a good, sweet heart, but hates cowardly adults.

Description
Rydia is an exclusive character only available from the Premium Character Shop as a random downloadable content, she summons the Mist Dragon during battle.
A girl from Mist, the village of the summoners, Rydia loses her mother when King Baron sets fire to her hometown. Though at first she mistrusts Cecil for his role in causing the disaster, she eventually warms to him.

Description
Rydia appears as a child in Final Fantasy Record Keeper. Template:FFRK Character
Stats
| Level | HP | Strength | Defense | Magic | Magic Defense | Spirit | Accuracy | Evasion | Speed |
| --- | --- | --- | --- | --- | --- | --- | --- | --- | --- |
| 1 | 140 | 7 | 5 | 12 | 11 | 9 | 20 | 20 | 92 |
| 50 | 2,345 | 63 | 43 | 120 | 102 | 86 | 22 | 22 | 118 |
Gallery
Rydia is on a few cards in the Final Fantasy Trading Card Game. Two cards feature both of her SD images, while the other depicts her DS CG render. Another card features her tale's promotional artwork from The After Years.
Non-Final Fantasy Appearances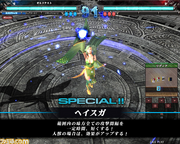 Rydia appears as a card and summonable creature in the sequel to Lord of Vermilion, along with other characters from Final Fantasy IV as part of a special cross promotion. Her card is Super Rare, and has an Attack and Defense of 35. Rydia's special ability is Hastega. An update of her card reappears in Lord of Vermilion Re:2, the second version of the game. In addition to this, a limited edition of Rydia as a child is also available.

Virtual World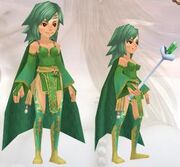 Users in Square Enix Members Virtual World community can make their character appear as Rydia. Rydia's Final Fantasy IV clothes and hair costs 580 crystals combined, her The After Years hair costs 100 crystals and her The After Years clothes cost 480 crystals.
Rise of Mana
Gallery
Template:Gallery Template:Gallery Template:Gallery
Etymology
"Rydia" may be a mistransliteration of Lydia, a more common western name. Lydia refers to a region in western Anatolia, from which the common name is derived.
In the English localization of the DS version, Rydia is pronounced [ˈɹɪ.di.ə.].
Trivia
Rydia is the first named Summoner in the series.
Rydia is one of a few characters to undergo a permanent physical change with her sprite and menu portrait changing as well. Other characters to do this are Cecil, Kain, Dagger from Final Fantasy IX, and Basch from Final Fantasy XII.
Rydia is the only named, playable Summoner to focus on Black Magic other than her Eidolons, as the Summoners after her (Dagger and Eiko of Final Fantasy IX and Yuna of Final Fantasy X) use White Magic.
The first Super Nintendo entry in Square's Hanjuku Hero series (directed by Takashi Tokita) features parodies of Final Fantasy IV characters, where some of the playable generals are named after them. Other character names include Kain and Edge.
Rydia's age since returning from the Feymarch as an adult is unknown, and has not been confirmed by an official source.
Young Rydia is depicted with a Bomb beside her in the icon for Final Fantasy IV DS when the player opens the game on their menu.
Young Rydia is featured on an attachable screen wipe in a promotional DS bundle designed by Hori.
When Cecil and Kain inadvertently destroy the village of Mist, Rydia summons Titan even though when the player gains her as a playable character, she can only summon Chocobo, in addition to Whyt in the DS remake. Rydia states in The After Years that she and Titan have been together since she was a child, though this could also be explained by her traveling to the World of Summons while still young.
Despite not having much interaction with each other in Final Fantasy IV, the Final Fantasy IV Settei Shiryou Hen guide's character relationship chart identifies Tellah and Rydia's relationship as that akin to teacher and pupil. Her relationship with Rosa is the same as with Tellah, her relationship with Cecil is described as "bound by fate" and her relationship with Edge as receiving his unrequited affection.[1]
References
Template:FFIV Template:IVCCI Template:IVTAY Template:TFF Template:TFFCC Template:FFRK
Community content is available under
CC-BY-SA
unless otherwise noted.