Ruffian is an oasis settlement in Lightning Returns: Final Fantasy XIII located in the Dead Dunes. It is the base of operations of the bandit group known as Monoculus. It was once a town but most of the people left it.
Story
[
]
Lightning arrives to the Dead Dunes and is shadowed by Monoculus who fear she may be working for the Order of Salvation. She speaks to Adonis in Ruffian who tasks her with quelling a local sandstorm. Afterwards Lightning is allowed access to the boss's quarters and she is surprised to find the leader of Monoculus is Oerba Yun Fang, her old comrade. Fang enlists Lightning's aid in opening up the Temple Ruins beneath the Dead Dunes, where the holy clavis is presumed to reside.
Locations
[
]
Soul seeds
[
]
Mal in the bar buys soul seeds that Lightning can find from chaos infusions.
Old Rivals
[
]
Quest Begins

Tobias is a wealthy merchant who runs several shops across the Dead Dunes. But the lack of competitors out in the desert means his selection is poor and his customer service worse. Tobias just can't bring himself to get excited about his business without competitors to spur him on. People like Ramon, for example, who was once a fierce rival but now does nothing but loiter around the Giant's Sandbox.
Quest Complete

Now that Ramon has reopened his shop, Tobias is fired about his business again—it's the competition that he really loved. His soul is released from the ennui that had gripped him, and now Lightning can expect to find much better wares in his shop. Maybe Lightning should visit Tobias's General Store some time and see what new merchandise is available.
Difficulty: ★
Requirements: None
First Time Rewards: 500 gil, Snakeskin Hat, Max HP +50, Strength +4, Magic +2
Subsequent Rewards: 750 gil, Max HP +20, Strength +4
After talking with Tobias at the Ruffian settlement's general store, Lightning must seek out Ramon in Giant's Sandbox, near a teleport stone in Temple Ruins North Gate. After starting and completing His Wife's Dream quest, returning to Tobias completes the quest. He will now offer more items for sale.
Tool of the Trade
[
]
Quest Begins

In Ruffian, Lightning meets a young man who speaks in a strange code. Elmer first came to the Dead Dunes to unlock the secrets of the ruins, and although he has given up on his research, he still knows a great deal about them. Lightning may help rekindle his motivation if she finds his old appraising tool, the loupe. Hint: The bandits discard their garbage in the Atomos's Sands area.
Quest Complete

The loupe that Elmer discarded belonged to his father. When his father died, he fell into despair and abandoned the dream he had of becoming a scholar like his father wanted. That was when he threw away the tools of his trade. But dreams are not discarded so easily. Elmer says that if he could be born again, he would become a great scholar and unlock the secrets of the ruins. Now, thanks to the savior's intervention, he may do exactly that--in the new world to come.
Entry 1

In the days that follow...
Elmer learned many things from his father. If Lightning finds any unappraised items, she can bring them to Ruffian to have Elmer appraise them. Who knows, some mystery items might turn out to be valuable treasures? Unappraised items can be recovered from lizards and the remains of hapless adventurers.
Difficulty: ★
Requirements: None
First Time Rewards: 400 gil, Retro Scopes, Max HP +50, Strength +2, Magic +4
Subsequent Rewards: 600 gil, Max HP +20, Strength +2, Magic +2
Elmer is found in the second floor of the Ruffian, where he says he has discarded his equipment. The Loupe is found in Atomos's Sands, north from Ruffian. Climbing the nearby observation post lets Lightning spot something glimmering on the ground. Handing the Loupe to Elmer completes the quest.
After completing the quest Elmer will appraise unappraised items for Lightning.
Lightning also receives a random amount of Bronzed, Silvered or Crystal Medals.
Adonis's Audition
[
]
Quest Begins

In the outlaw settlement of Ruffian, Lightning encounters a character called Adonis, who appears to be an important figure in the bandit gang known as Monoculus. He tells her that they have information about the holy clavis, but they will only share it if she joins the gang. Monoculus runs everything in the desert. If Lightning wants to accomplish anything while she is here, it might be a good idea to do what Adonis suggests.
Entry 1

Out in the desert, a storm called God's Wrath rages endlessly. If someone can activate the monument that stands nearby, the storm will finally cease—or so the locals believe. Lightning must battle the Gurangatch that prowls nearby and recover the key that activates the monument.
Quest Complete

As soon as Lightning gains possession of the Anchorite's Crux, the monument is activated, and the storm that no one could calm suddenly grows still. This is proof that she is indeed a messenger from God. Lightning has passed the trial. Now it is time to return to Ruffian, talk to Adonis, and be introduced to the bandit boss.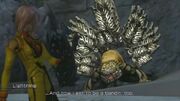 Difficulty: ★★
Requirements: None
First Time Rewards: 1500 gil, Monoculus Mask, Max HP +100, Strength +4, Magic +8
Subsequent Rewards: 2300 gil, Max HP +50, Strength +4, Magic +6
After talking to Adonis in Ruffian Lightning can accept the trail to join the Monoculus. Her task is to quell a sandstorm. The location is marked on the map, and the fastest way to get there is by warping to the nearby teleport stone: Near God's Wrath. After battling a Gurangatch, Adonis congratulates Lightning on her success and she uses the crux to quell the storm. Adonis rushes back to Ruffian and finding him there and talking to him again completes the quest.
Skeletons in the Closet
[
]
Quest Begins

In Ruffian, Lightning encounters a former bandit by the name of Jamus. He is a tormented soul, who cannot forget the day when Skeletons attacked him and his children and left him as the only survivor. Jamus's life is in tatters, and the only thing that might save him is revenge. Lightning agrees to seek out all the Skeletons and destroy them once and for all.
Quest Complete

Lightning has destroyed every last Skeleton in the world. It does not end Jamus's pain, but it does allow him to face his grief at last. Jamus declares that he will visit the graves of his children and tell them that the skeletons are no more. The children are lost, but at least Lightning has saved the soul of a father.
Difficulty: ★★★
Requirements: Available after completing main quest 4-3 Where the Clavis Lies, and collecting

Crux Body

First Time Reward: 4500 gil, Pioneer's Eyepatch, Max HP +140, Strength +14, Magic +12
Subsequent Rewards: 6750 gil, Max HP +60, Strength +6, Magic +6
Lightning must exterminate the Skeleton species by defeating Skeleton Ω. To make Skeleton Ω appear, she must slay 60 of them (the number remaining is displayed on the quest's page in the menu), or, alternatively, fight the Skeleton Ω in Ultimate Lair. After vanquishing the foe, returning to Jamus in Ruffian main building completes the quest.
Shops
[
]
Aside from Tobias's General Store, shops in Ruffian are unavailable until after viewing the first mural in the Temple Ruins.
Tobias's General Store
[
]
Lady Luck Forge
[
]
Bandits' Best Outfitters
[
]
Barkeep
[
]
| Food | Type | Price |
| --- | --- | --- |
| Cactuar Tequila | Restores some HP. | 170 gil |
| Lizard Meat Nachos | Restores a great deal of HP. | 300 gil |
| Sahagin Jerky | Fully restores HP. | 450 gil |
Treasures
[
]
Bhakti's Oil (next to Tobias)
Gurangatch Notes (counter clockwise up the stairs)
Musical themes
[
]
"Bandit Gang Monoculus" plays when Lightning reunites with Fang.
In the bar a singer performs a vocal arrangement of "Eternal Wind", the theme of Final Fantasy III. A full arrangement of the song appears on the game's Original Soundtrack PLUS.
This section about an album in Lightning Returns: Final Fantasy XIII is empty or needs to be expanded. You can help the Final Fantasy Wiki by expanding it.
Gallery
[
]