Rods (ロッド, Roddo?) are a recurring group of weapons from the Final Fantasy series. Black Mages tend to use rods, while White Mages will in most cases use staves instead. The most recurring rods are the ones with elemental affinity (Ice Rod, Flame Rod or Thunder Rod), the Stardust Rod, and the Magus Rod, which tend to be identified as the ultimate of this weapon type. Rods usually increase the users Magic and MP when equipped.
Depending on the game, one may attack with the rod either by striking the enemy directly, or by magically unleashing a burst of energy. They are generally depicted with a jewel, gem, or stone at the top, although this is not always the case.
Profile
[
]
Akin to their sibling counterpart, the staff, rods also function as magic amplifying weapons designed for magic users. Usually featuring a thinner shaft and tipped with large elaborate ornaments, they also vary in size in contrast with staves throughout many games in the series, those variations bearing more similarity to traditional wands in RPG fare.
Likewise, they are aligned a majority of the time with offensive and destructive magic classes like the Black Mage.
Appearances
[
]
The Earth Rod appears not an equippable weapon, but rather a key item.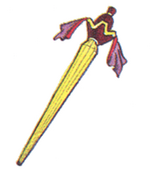 Rods can be equipped by every Magic-based job, but the White Mage can only equip some. Lilith Rod can only be equipped by Black Mages, while Millennium Rod can only be equipped by Magus.
List of rods:
Rods can be equipped by Palom, Tellah, Rydia, and Fusoya. Rydia is equipped with a rod when she first joins the party. In the 3D versions, if Golbez is hacked into the party, he'll be able to equip these weapons.
List of rods:
Rods can be equipped by Palom and Rydia.
List of rods:
List of rods:


Rods can be equipped by Freelancers, Black Mages, Summoners, Time Mages, Blue Mages, Red Mages, Necromancers, and Mimes. Any job can use rods with the Time Mage's Equip Rods ability. Several rods boost the power of certain elements. Rods deal damage based on the attacker's Magic stat and the defender's Resistance/Magic Defense stat. All rods deal full damage from the back row.
List of rods: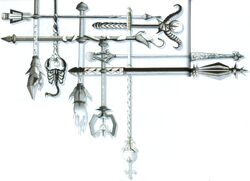 Rods can be equipped by Relm, Strago, and Gogo. Only Strago can equip the Stardust Rod.
List of rods:
List of rods:
Dagger can wield rods. Notably, rods are associated with white magic and staves are instead associated with black magic.
List of rods:
Yuna uses a mixture of staves and rods and is the only party member who wields them.
Some of the rods previously used by Yuna are used by the White Mage and Black Mage dresspheres. While in the White Mage dressphere, Yuna uses her default Staff, Rikku uses the Spiked Rod, and Paine uses the Malleable Staff. While in the Black Mage dressphere, Yuna uses Nirvana, Rikku uses the El Dorado and Paine uses the Enchanted Rod.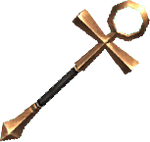 Rods and wands are a type of club weapon, usable by mages. Wands appear to be small paddles made out of wood, and provide bonuses to Magic stats. Rods appeared to be shaped like an ankh and were made out of metal or bones, and provided HP bonuses. Neither deal much melee damage.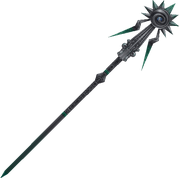 Rods can be equipped by every party member, as long as they have acquired the right license. Rods are well-suited to magick-geared characters since they increase the magick power and MP of the character they're equipped to. A few rods grant beneficial status effects on hit.
In case the player does decide to physically attack an enemy with a rod, damage is calculated based on the character's strength, the weapon's attack, and the enemy's defense. All rods add 6 to evasion and can knockback enemies. Rods never deal hit combos or critical hits and are among the slower weapons with 2.72s charge and 1.2s action time.
The damage formula for rods is:
Due to the weight put on user's Strength stat, recommended rod users are Vaan, Balthier, and Basch.
In the Zodiac versions, only the White Mage can equip rods. They no longer increase MP, but can hit flying targets.
List of rods:
Kytes can equip rods. His basic attack is based on the weapon's element.
List of rods: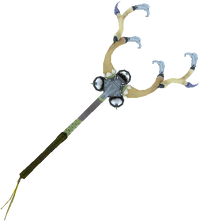 Vanille uses rods as her weapons of choice. They function differently to previous rods in the series, in that they have extending wires that latch on and pull at the enemy.
List of rods: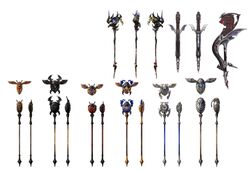 As Final Fantasy XIV divides weapons into categories based the disciplines that use them rather than what they are, there is no clearly defined split between rods and staves, with a variety of rods, staves, canes, wands, and other similar weapons appearing spread throughout the arms used by
Black Mages,
White Mages, and
Blue Mages.
Rods can be equipped by Black Mages, Mystics, and Summoners. They boost elemental damage.
List of rods:
Rods can be equipped by the Time Mage, Black Mage, and Illusionist jobs. They cost cheaper at the towns of Cyril, Cadoan, and Baguba Port.
Rods can be equipped by the Black Mage, Time Mage, Illusionist, Arcanist, and Dancer jobs.
There are only a few rods that appear and are weapons for Yukes.
List of rods:
List of rods:
Rods are a class of weapon.
List of rods:
Rods are a weapon type and can be equipped by Firion, Onion Knight, Bartz, Terra, Shantotto, The Emperor, Cloud of Darkness, Golbez, Exdeath, Kefka, Ultimecia, and Kuja.
List of rods:
Rods can be equipped by Yuna and Vaan in addition to their previous users.
List of rods:
Rods are a classification of weapon. When the Black Mage job wields rods, the weapon's Attack and Defense stats increase.
Rods can be equipped by the Black Mage, Magus, Time Mage, Summoner, Aerith, and Shantotto.