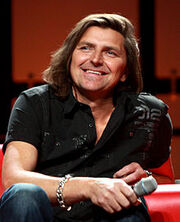 Robin Atkin Downes (born September 6th, 1976 in London, England) is an English actor and voice actor. He is the voice of Genesis Rhapsodos in Dirge of Cerberus -Final Fantasy VII- and Delita Heiral in Final Fantasy Tactics: War of the Lions.
Outside of the series, Downes is best known for his role as Kazuhira Miller in the Metal Gear series. He is also the voice of Faldio Landzaat in Valkyria Chronicles and George Washington in Assassin's Creed III.
Community content is available under
CC-BY-SA
unless otherwise noted.