Template:FFVIII Character
Look into my eyes... You're-going-to-like-me... You're-going-to-like-me... Did it work?

Rinoa Heartilly to Squall Leonhart
Rinoa Heartilly is a playable character in Final Fantasy VIII known for her trademark angel wings printed on the back of her duster sweater and, as such, her "character symbol" is a white feather that signifies the wings. She is Squall Leonhart's love interest, and is featured in the game's logo with him.
In battle, Rinoa wields a unique weapon called the Blaster Edge, a bladed projectile she launches from a firing mechanism on her left arm. After hitting the target, the projectile returns to Rinoa like a boomerang. Rinoa's faithful dog Angelo accompanies her in battle by attacking the enemy or aiding the party.
Profile
Appearance
Rinoa's shoulder-length black hair has three caramel highlights on both sides of her face. Her eyes are dark brown. When first met at the SeeD ball Rinoa wears an off-white sheer fabric halter dress, her signature necklace, a bracelet on her right wrist, and white shoes. She wears the ballroom outfit again at the Garden Festival event in Fishermans Horizon.
Her signature outfit is a long, sleeveless, blue rib-knit duster sweater with a pair of white wing designs on the back. She wears matching rib-knit arm warmers, a black tank top, a denim button-up skirt, a black ribbon on her left arm, and black bike shorts with zippers going down the front and a pair of silver buckled black boots. Her necklace features a ring. Just before the Battle of the Gardens she receives Squall's Griever ring from Zell, who borrowed it to make Rinoa a replica. Rinoa adds the Griever ring to her necklace and wears it along with her own.
In the original North American release, Rinoa's height was listed as 161 cm (5' 3.5"), but the Final Fantasy VIII Ultimania, the latest edition released seven years after the game, has her height as 163cm (5' 4"). This is because all the character heights were wrongly converted from the metric to imperial for the North American version of Final Fantasy VIII.
Apart from the angel wings symbol and her ring, shooting stars have a significance to Rinoa. She points at a shooting star during her introductory scene, her strongest weapon is Shooting Star and one of her most powerful Limit Breaks is called Wishing Star.
Personality
A member of the Timber resistance group Forest Owls. Uses her dog to make special attacks.

Scan description
Rinoa is compassionate, warm, and friendly, although she can act stubborn and naive. Despite being born to a well-to-do family and her father being an important figure in Galbadian military, she is concerned by the state of the world. Rinoa joins a resistance movement fighting against Galbadia to achieve Timber's independence in a mixture of genuine desire to fight for Timber and rebellion against her father. However, the Owls are amateurish and she has little experience with the realities of combat, and is anxious at the prospect of fighting solo. She can be impulsive and act without thinking, which gets her into trouble. She is loyal to her friends and committed to doing what she thinks is right.
Rinoa clashes at times with Squall and Quistis for what she perceives as a cold and mechanical attitude and their impatience with her inexperience. Rinoa serves as a foil to Squall as a person who had a normal upbringing and who can freely express emotion. Although she initially dislikes him for his coldness she grows to like him and encourages him to open up and talk about his feelings, as well as teasing him playfully to try and break through his shell.

Story
Gameplay
Rinoa uses a Blaster Edge in battle. Through upgrades via Junk Shop she can come to wield other variant models. The Blaster Edge, which should be attached to her left forearm, does not appear in cutscenes. When in trouble she receives the aid of her dog, Angelo.
Rinoa wields the Blaster Edge as her default weapon. There are five types available for Rinoa to use.
While it is possible to acquire Rinoa's ultimate weapon, Shooting Star, before Disc 3, it is difficult due to the player requiring a Force Armlet to upgrade.
Rinoa is the only character in Final Fantasy VIII to have two Limit Breaks. The first one she starts with, while the second is obtained through story progression.
Combine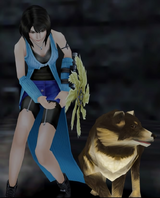 Combine is Rinoa's primary Limit Break, in which Rinoa teams up with Angelo to perform a variety of attacks. To gain access to Combine moves the player has to read Pet Pals magazines and walk around with Rinoa in the party so Angelo can learn it. Learning all of Angelo's Combine skills in the Steam version earns the player the achievement Dog Trainer.
Angel Wing
Angel Wing is Rinoa's second Limit Break, appearing in her Limit Break list after she obtains sorceress powers. While in the Angel Wing state Rinoa's magic damage is boosted five times more powerful than usual, and puts her into a berserk spell-casting state in which she uses only magic.
Stats
Despite being the character with the least combat experience, of the main party Rinoa has some of the highest base Stats at Level 100, surpassing all others in Strength, Magic and Spirit, possibly due to her inheriting sorceress powers.
| LV | HP | Str | Vit | Mag | Spr | Spd | Luck |
| --- | --- | --- | --- | --- | --- | --- | --- |
| 1 | 217 | 1 | 0 | 8 | 3 | 20 | 16 |
| 10 | 610 | 10 | 5 | 15 | 8 | 22 | 17 |
| 20 | 1038 | 19 | 10 | 22 | 14 | 24 | 17 |
| 30 | 1458 | 27 | 14 | 29 | 19 | 25 | 18 |
| 40 | 1871 | 35 | 18 | 35 | 24 | 27 | 19 |
| 50 | 2275 | 42 | 21 | 41 | 28 | 28 | 19 |
| 60 | 2672 | 48 | 24 | 46 | 31 | 30 | 20 |
| 70 | 3061 | 54 | 26 | 51 | 34 | 32 | 20 |
| 80 | 3443 | 59 | 28 | 55 | 36 | 33 | 21 |
| 90 | 3816 | 64 | 30 | 59 | 38 | 35 | 22 |
| 100 | 4181 | 67 | 31 | 63 | 39 | 36 | 22 |
Boss
During the battle with Adel, Rinoa is junctioned to her, immobile, because Adel is absorbing her powers. If she dies, it is Game Over.
Creation and Development
Tetsuya Nomura, the main character designer for Final Fantasy VIII, had difficulty drawing Rinoa. He wanted to create a character who would leave an impression on the viewer; instead of a beauty, he wanted something cute. He had a hard time with this, and feels that some of his personal preferences were included in the design. For Rinoa he also created a "cute" vocabulary list and some ideas for her habits which were sent off to the scenario writer Kazushige Nojima.
For his part Nojima wanted to have Rinoa like books and reading; this is the reason she is found in the Balamb Garden library when not in the active party. One detail that did not make the Japanese-to-English translation was Rinoa's habit of forming cutesy words (much like Selphie). One such word was oHARO~ ("ohayo" (good morning) and "HELLO" put together).
Mayuko Aoki acted out most of the motion capture needed for Rinoa's FMV sequences, although Yasuko Yokoyama acted as her motion actress for the waltz scene and Hoshimi Asai performed Rinoa's stunt scenes, such as when she falls down the side of Balamb Garden.
During the game Rinoa does not have a voice, but in some FMVs, she is heard breathing. Foley artists in the USA recorded and mixed all the sounds featured in the FMV movies.
There is a dummied piece of dialogue in the scene where Squall and Rinoa were onboard Ragnarok where Rinoa tried to dissuade an assumed jealousy in Squall for her having dated Seifer in the past. When Squall did not catch on, Rinoa commented that Squall does not care about other people's pasts.[1]

Musical Themes
The romance between Squall and Rinoa is accompanied by a variation of Julia Heartilly's "Eyes on Me". Rinoa's introduction in Balamb Garden's dance hall is accompanied by the "Eyes on Me" variation "Waltz for the Moon", and her second introduction on the Timber Owls train is accompanied by another variant, titled "My Mind", which often is considered to be her theme.
This would continue on as a pattern over the next two games, as the character themes of Garnet and Yuna would likewise be variations of "Melodies of Life" and "Suteki da ne", the themes of their respective romances with Zidane and Tidus.

Other Appearances
An icon sprite of Rinoa appears in the Pocket Station memorycard file manager.
As a part of the Forest Owls, Rinoa works to undermine the Galbadian government along with her fellow freedom fighters. She meets Squall when she goes to Balamb Garden to seek help for her group's plans to abduct the Galbadian president. She cannot help falling for the SeeD, yet she will find herself the unwitting inheritor of a sorceress's power, making her a liability and putting her life at risk during the war against the sorceresses.

Online description
Rinoa appears as a playable character in the iOS version of Theatrhythm, and must be purchased in order to use.
Rinoa, is part of the background movie in the Event Music Sequence, "Waltz for the Moon", dancing with Squall.
Stats
Rinoa returns as an unlockable character, and is unlocked by collecting Turquoise Crystal Shards.
She is a Support oriented character. Her Limit, Wishing Star, deals damage in proportion to her Magic and Agility.
Stats
| Level | CP | HP | Strength | Magic | Agility | Luck | Stamina | Spirit |
| --- | --- | --- | --- | --- | --- | --- | --- | --- |
| 1 | 8 | 208 | 14 | 14 | 11 | 10 | 11 | 12 |
| 50 | 37 | 3591 | 114 | 111 | 89 | 79 | 88 | 92 |
| 99 | 50 | 5525 | 172 | 168 | 133 | 119 | 133 | 139 |
Abilities
Rinoa appears in Pictlogica Final Fantasy as a playable character.
Rebelled against her Galbadian military father to join the Timber resistance group, The Forest Owls. A cheerful and carefree young woman who falls in love with Squall.

Character Description
Rinoa appears as an ally and a summonable Legend in Final Fantasy Airborne Brigade. She is depicted in her Final Fantasy VIII default outfit and in a wedding dress. Her abilities are Angelo Cannon, Angelo Rush and Angelo Strike. Her EX abilities are Angelo Strike, Angelo Rush, Angelo Recover and Angel Wing. In battle, Rinoa is armed with her Pinwheel.
This vibrant young member of the Forest Owls is extremely moody after waking up.

Description
Rinoa is an exclusive character only available from the Premium Character Shop as a random downloadable content, she uses the Angelo Cannon ability during battle.
Rinoa appears in the Final Fantasy Trading Card Game and is represented on several cards of the Wind set.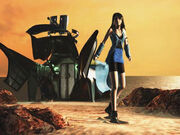 In the original demo of Final Fantasy VIII, Rinoa is part of the team that infiltrates Dollet and is featured in Selphie's place in the evacuation FMV. She has no Limit Break, and no spoken lines, but is the only one able to summon a Guardian Force, Leviathan.

Squall and Rinoa appear in a technical demo for the PlayStation 2 where they reenact the waltz scene from Final Fantasy VIII to showcase the console's graphics engine.

Non-Final Fantasy Appearances
Kingdom Hearts series
During the end credits of Kingdom Hearts II, Squall (going by the name Leon) receives a letter from a girl who is presumably Rinoa, as her trademark "angel wings" icon appears from the letter.
Rinoa, along with other Squaresoft characters from the Final Fantasy and Dragon Quest series, appears in Itadaki Street Special, a game that resembles Monopoly. It has only been released in Japan.
Dragon Quest & Final Fantasy in Itadaki Street Mobile
Rinoa reappears in this mobile-phone edition of Dragon Quest & Final Fantasy in Itadaki Street Portable. While initially not part of the player roster, she was later added on August 16, 2010, following the game's release.

Gunslinger Stratos 2
Rinoa's costume is to be released in November 2014.

In Popular Culture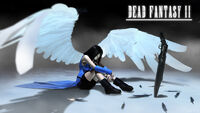 For more information, see Dead Fantasy Wiki: Rinoa Heartilly.
Rinoa has appeared in the second segment of the fanmade Dead Fantasy series. She uses a gunblade for melee combat, possesses permanent angel wings (that enable her to fly) and uses the sorceress power. She debuts in Dead Fantasy II with Kairi to aid Yuna, Rikku, and Tifa against their Dead or Alive rivals. Rinoa will appear in a future installment Dead Fantasy VII to fight against her rival, Rachel.

Rinoa has a fanmade design known as the "Dion Rogers' Rinoa" that is popular among cosplayers. Late 2004 to early 2005 Square held a competition to see who would make the best fanart following the theme "FFanything-2". The winner would get their design turned into a pixel rendition.
A minor reference is done to Rinoa in the "Yellow" Trailer where Yang Xiao Long visits The Club and interrogates Hei Xiong if he knows the "Transient Princess". The Transient Princess is in fact the name of a Rinoa CG that Monty Oum created and the image's name references the way that Final Fantasy VIII manikins are named in the Dissidia series.
In one of the windows outside the Artnia café is a display containing a crystal chandelier, a suspended wall mirror and a candle lit dresser in front of a red curtain. Besides the dresser is a silhouetted figure of Rinoa Heartilly in her "request pose" that she performed when asking for a dance with Squall Leonhart.
Merchandise
Being one of the central characters of Final Fantasy VIII, Rinoa has featured in numerous merchandise, such as in the Final Fantasy Play Arts Action Figures, Final Fantasy Trading Arts, Final Fantasy Trading Arts Mini and other Final Fantasy VIII Action Figures.
Rinoa has been part of the Coca-Cola marketing campaigns where she has had several different bottle-cap figurines: chibi and regular versions, red crystal versions of each and the color of the figurine's base either yellow or red.
The Transcendent Artists Collection: Final Fantasy VIII statue features Rinoa with the Guardian Force Siren.
The Rinoa Zippo lighter is perhaps the rarest piece of merchandise; only a few hundred were ever produced. Other very rare pieces of merchandise are the ballroom scene Final Fantasy Cold Cast Collection statue and the Rinoa chrome statue, both limited at 3,000 pieces.
Gallery
Etymology
Before the magazine Shonen Jump revealed the name "Rinoa Heartilly" many publications translated the name as "Lenore", which means "light" (romaji transcription of "Lenore" is Rinoa).[2] The French translation of the game comes closer to this, calling her "Linoa" (also a Haitian/Tahitian female name meaning "light of the earth").
The name Rinoa may be a variation of Riona, a Gaelic Irish name meaning both "pure" and "royal". Both meanings could be attributed to Rinoa, in the angelic appearance of her sorceress powers and in the Forest Owls members referring to her as "princess".
Rinoa's surname, Heartilly, is derived from the English word "heartily". Heartily is an adverb meaning in a cordial manner, with warmth and sincerity, with zest or enthusiasm.
Trivia
During the ending of Dissidia Final Fantasy, when everyone is disappearing, a feather (possibly a reference to Rinoa) falls down towards Squall. He grabs hold of it and disappears with the other Warriors of Cosmos. In Shade Impulse, Squall mentions to Ultimecia and Onion Knight he made a promise to return to someone in his world, referring to Rinoa.
Three of Rinoa's weapons, the Valkyrie, Cardinal and Shooting Star are Ultimecia's exclusive weapons in Dissidia Final Fantasy.
Aside from the Laguna flashbacks, Rinoa is the only playable character in the present timeline to not have any connection to SeeD or Garden.
Despite not being a SeeD, Rinoa can be paid salary when she is alone in the party during the sorceress assassination mission in Deling City.
Rinoa's Blaster Edge might have been inspired by similar weapons found in Rudra no Hihō on the Super Famicom, a game that was release by Square in 1996. In that game, these weapons are mounted on the arm and shoots a crescent-shaped scythe at the enemy.
References
External links