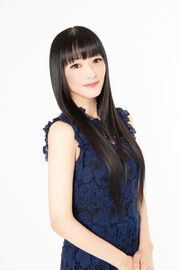 Rie Tanaka (田中 理恵, Tanaka Rie?), born January 3, 1979, in Sapporo, Hokkaidō, Japan, is a Japanese singer and voice actress. She voices Emina Hanaharu in Final Fantasy Type-0 and several characters in Final Fantasy XIV.
She is best known for providing voice for Virgo Zodiarts and Reina in Kamen Rider series, Lacus Clyne in Gundam Seed, Morrigan Aensland in Marvel vs. Capcom, Ciel in Mega Man Zero, Neptune in Hyperdimension Neptunia series, Mitsuru Kirijō in Shin Megami Tensei series, and Suigintou in Rozen Maiden. In addition to voicing the character of Karen Erra, she was an avid player and fan of the MMO Action RPG Phantasy Star Universe.
Community content is available under
CC-BY-SA
unless otherwise noted.