Relm
:
I couldn't miss the chance to practice my drawing!
This article is in need of a few pictures. Perhaps you can help by uploading a picture.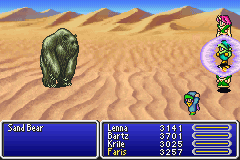 Resist Poison (レジストポイズン, Rejisuto Poizon?) is a recurring ability in the series. It increases resistance towards the Poison status.
Appearances
[
]
Resist Poison is a Mix ability, done by mixing together an Antidote and an Ether. It raises resistance to Poison for one target.
Resist Poison job trait that increases the player's resistance to Poison, with potency based on the level of the trait. Resist Poison I, II, and III are learned by Rangers at levels 20, 40, and 60, respectively.
Resist Poison is a passive ability that raises a character's Poison Resistance stat to 100. It can be unlocked on a Mirage Board, or applied with a Mirajewel or Ability Seed.
Gallery
[
]
This gallery is incomplete and requires Final Fantasy XI added. You can help the Final Fantasy Wiki by uploading images.