An operative with the Turks unit of Shinra's General Affairs Division. Fast ans extremely agile, he leaps in to attack with his special Shinra-made security baton.

Enemy Intel
Reno is a boss in Final Fantasy VII Remake fought in the beginning of Chapter 8, "Budding Bodyguard", during "Second Chance Meeting". He is later fought again in Chapter 12, "Fight for Survival". He is quick and powerful, using lightning attacks. In the second battle, he teams up with Rude and the two are able to execute a joint attack.
Sector 5 Church
[
]
Stats
[
]
Attacks
[
]
= Physical damage
= Magical damage
Attack
Pic
Description
Block
KB Knockback
Beatdown
Swings at a target 4 times followed by a kick if the swing hit
Hard Mode: Cannot be stopped
Rushdown
Jumping attack with stun baton, then kicks thrice if the baton succeeded
Hard Mode: Cannot be stopped
Shock Swipe
Charges electricity and dashes at a target.
Counterattack
Dodges and counters.
EM Shot
An orb of electricity homes in on a target, dealing Lightning damage and stunning them for 5 seconds.
EM Flail
Swings an EM Mine at a target, dealing Lightning damage and binding his target.
EM Charge
Charges an EM Mine.
-
-
Bright Spark
Uses EM Mines to stun and slam down on a target for Lightning damage.
EM Mine Toss
Throws two EM Mines.
-
-
Battle
[
]
Reno will dodge Cloud's first attacks, and then use a counterattack. After losing half HP, Reno will jump near the back and toss out electric mines. The player needs to avoid being trapped in these or try to destroy them, though otherwise the same tactics apply as before. At range, Reno will throw EM attacks at Cloud, which should be dodged. Reno cannot dodge limit breaks.
Strategy
[
]
Direct strikes against Reno won't do much good, since he can counter them. The best way to strike at him is to counter his attacks with Punisher Mode. This will pressure him, making him an easy target. The EM Mines he puts up should be destroyed (Triple Slash on them is good) as they link up. The player can also dodge his counterattack, and then unleash Cloud's abilities against him. The player can wait for Reno to lunge in with an attack, and then dodge, pressuring Reno. At this point, the player can enter Punisher Mode and unleash Cloud's strong attacks and abilities against him. Reno can also be staggered to deal significant damage.
Hard Mode
[
]
It is best to focus on physical attacks and save on MP.
Hardedge thus makes for a good weapon for this battle. Pairing
Elemental Materia with

Fire Materia allows the more durable security officers to be defeated more easily, and Cloud should cast
Regen often for durability. Another use for elemental is to pair it in armor with a

Lightning Materia to resist/absorb Reno's electricity attacks, thus when he moves into the second phase of the battle, it actually becomes easier. Counterstance is especially useful when Reno lunges in with attacks, and Blade Burst allows him to be attacked while remaining at range. While he is summoning EM Mines, Reno is left vulnerable and can be hit with a strong attack like Braver of Infinity's End.
Defeating Reno will grant Cloud The Art of Swordplay Vol. VII.
Sector 7 Pillar
[
]
Stats
[
]
Attacks
[
]
= Physical damage
= Magical damage
Attack
Pic
Description
Block
KB Knockback
Beatdown
Swings at a target 4 times followed by a kick if the swing hit
Hard Mode: Cannot be stopped
Shock Swipe
Charges electricity and dashes at a target.
Wild Swings
Punches a target into the air and then lays into them.
Flashstrike
Crouches and charges.
Electroburst
Jumps and crashes down releasing Lightning.
Flashfoot
Zig-zags through the arena leaving streaks of Lightning that damage on contact.
Triple EM Shot
Shoots three Lightning orbs that home in on a target.
Pyramid
Binds a target inside a pyramid until the structure is destroyed.
Binding Current
Binds the target for Rude to attack. The target is released if Rude does not within 3 seconds.
Turks' Combo
Reno and Rude jump, Reno using Electroburst and Rude using shockwave.
Battle
[
]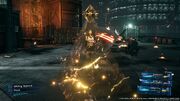 Reno attacks quickly, and can knock one character up in the air, though this gives the others an opportunity to pile on him. After he has finished moving, Reno will be temporarily stationary. After losing a third of his HP, a bombing run takes place. Reno will now use similar attacks as before, but can also use Pyramid to trap a character. After taking damage, Reno will exit the fight temporarily, and Rude will fly in with a helicopter. When Rude joins Reno on the ground battle, the tactics against Reno are the same as before.
Strategy
[
]
Barret can absorb a lot of damage with Lifesaver, meaning the party will only have to focus on healing him. When Reno remains stationary for a time, this is a good chance for Cloud to use his abilities, Tifa to use her Unbridled Strength, and Barret to use Overcharge. When the bombing run is coming the player should run to avoid it, or guard to reduce as much damage as possible, then heal. When Reno puts up a Pyramid, the player should pressure him to end this. When Rude's helicopter joins, Barret can shoot at it and everyone can cast spells against it, causing it to crash. When both Reno and Rude are present, the player can continue to avoid Reno's attacks, and then use physical abilities to deal most damage.
Hard Mode
[
]

Healing Materia and

Barrier Materia are useful, and it is ideal to pair one or the other with
Magnify Materia to cast
Manaward on all.

Time Materia and

Binding Materia are crucial on different characters to cast
Sleep and
Stop, respectively.
Parry Materia is excellent on both Cloud and Tifa. Offensive spellcasting is mostly unimportant for this fight, though
Bio spells can be good and both Reno and Rude can be inflicted with
Poison as well.
Steadfast Block Materia helps charge ATB faster in this battle.
The player can cast Regen as the fight begins, and use Barret's Lifesaver and Steelskin. For the first phase, Cloud's Counterstance is helpful, though the best route is to wait for Reno to attack and then switch party member. For instance, while Reno focuses on Cloud, Tifa can use Omnistrike or Barret can use Overcharge or Maximum Fury to deal heavy damage. For the second phase, Barret can destroy the helicopter while Cloud and Tifa use physical attacks on Reno. It is best to prioritize destroying the pyramid when Reno uses it.
When both Rude and Reno appear, it is possible to cast Stop and Sleep interchangeably. If one is cast and applies successfully, the bosses become vulnerable to attacks. The party can then lay into them and cast the other debuff straight after and continue attacking. Otherwise, the same strategy applies; the Turks can focus one character, while the player attacks with another. Casting
Barrier can be helpful, though Barret's Lifesaver should also suffice.
Defeating Rude and Reno rewards Barret the Sharpshooter's Companion Vol. VII.
Musical themes
[
]
"The Turks: Reno" plays when Cloud duels Reno in the church at the Sector 5 slums. It is a rock version of the classic Turks' Theme, which incorporates some leitmotivs of other themes, most notably the "Infiltrating Shinra HQ" and "Let the Battles Begin!" from the original Final Fantasy VII.

Gallery
[
]