Beowulf! I had thought the joy of your embrace forever lost.

Reis Duelar
Reis Duelar, also known as Reis Dular, is a secret character from Final Fantasy Tactics. She is Beowulf's fiancée, but the confessor Celebrant Bremondt wants her for himself.
Appearance
Edit
Personality
Edit
Recruitment
Edit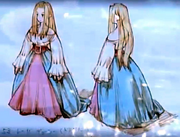 In Chapter 4, after witnessing an optional scene in the Clockwork City of Goug with Besrudio Bunansa, the player can go to the tavern in Mining Town of Gollund to hear to the "The Haunted Mine" rumor. In the tavern in Lesalia the player can take the coal mine job and have Beowulf join as a guest. After fighting a series of battles at the mines, the player can recruit both Beowulf and Holy Dragon Reis.
To get Reis as a Dragonkin the player must fight at Fort Besselat, buy a flower from a flower girl at the Trade City of Sal Ghidos, return to Goug for another scene Besrudio, and go to the tavern at Zeltennia Castle for the "Cursed Isle of Nevleska" rumor that opens up the route to Nelveska Temple. Winning the battle at the temple transforms Reis to the Dragonkin job.
During the battle in Gollund, Reis's level depends on the party's level, and she starts with 31 Bravery and 32 Faith.
Reis starts as a Holy Dragon, and is nearly identical to the Dragons that can be encountered as regular enemies, only able to use all three elemental breaths minus the physical techniques, such as Charge and Tail Sweep. She absorbs Holy-elemental attacks.
Transforming Reis into Dragonkin unlocks her true potential. Dragonkin is a special job all about taming dragons and using dragon powers to aid allies. Dragonkin has the highest HP, MP and Magick growth among all jobs, as well as an excellent Attack stat that surpasses even that of the Sword Saint's. The Dragonkin's impressive stat growth comes at a price: she can equip only female-exclusive equipment.
Rendezvous
Edit
When fought in the eleventh Rendezvous battle: All-Star Melee, she is 2 levels higher than the highest level deployed unit. She starts with 62 Bravery and 64 Faith in her default Dragonkin job, equipped with a Cachusha and a Septième. She has access to the Dragon and White Magick commands, as well as the abilities First Strike, Brawler, and Move +2.
When fought in the fourteenth Rendezvous battle: Brave Story, she is level 99 and starts with 70 Bravery and Faith. She uses her default Dragonkin job, and is equipped with a Cachusha and Japa Mala. She has access to the Dragon and White Magick commands, as well as the abilities Lifefont, Dragonheart, and Arcane Strength.
Other appearances
Edit
Community content is available under
CC-BY-SA
unless otherwise noted.