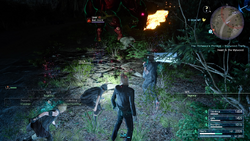 Everyone form up!

Ignis when using the critical version of Regroup in Final Fantasy XV
Regroup (ギャザリング, Gyazaringu?, lit. Gathering) is a recurring ability in the Final Fantasy series, used exclusively by Ignis Scientia.
Appearances
[
]
Regroup is a Technique for Ignis that costs 8 AP to unlock and 2 Tech Bars to execute. Ignis summons the party to him, almost entirely restoring everyone's HP, though it does not restore Max HP. Allies in Danger status will be healed. Poisoned or Downed allies won't be healed, though Poisoned allies still recover from Danger with 25% HP. Its critical version can also yield the Stalwart buff that boosts physical defense.
Gallery
[
]