Regole, also known as Lugor Bordertown or Rugor, is a small frontier town in Final Fantasy V. It is accessible in Galuf's World and the Merged World. When Bartz arrives in the town, the townspeople say it has been years since anyone came. Regole is famous for its brew, and is located north of the Sealed Castle.
Story
[
]
After the battle at the Big Bridge, Bartz and the rest of the Light Warriors find themselves in Gloceana. They find border town Regole, a town excluded from the rest of the world that produces a wonderful brew. The party rests and during the night, Galuf has a drink with Bartz, where both discuss the events at Castle Exdeath. In the next morning, the heroes head towards the desert.

Locations
[
]

This section about a location in Final Fantasy V is empty or needs to be expanded. You can help the Final Fantasy Wiki by expanding it.
Quests
[
]
Dancing
[
]
If the player dances on the pub's stage in Regole, the pub owner will reward the party with 100 gil. This can be done repeatedly.
Piano
[
]
The party leader can play a piano at the end of a hidden passage in the pub. Playing all the pianos in the world acquires the last song, Hero's Rime, after showing the newfound pianist skills to the bard in Crescent. The piano in Regole is the sixth piano the player is likely to encounter, and if the player played all the previous ones, the party leader will play an excerpt from "Beautiful Dreamer" by Stephen Foster.
Shops
[
]
Armor Shop

[

]

Weapon Shop

[

]

Magic Shop

[

]

Item Shop

[

]
Items
[
]
| Name | Location |
| --- | --- |
| Ribbon | Girl at the Equipment Shop. Merged World only. |
Enemies
[
]
Outside (Galuf's World)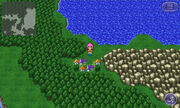 Outside (Merged World)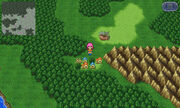 Musical themes
[
]
Like in many other towns, "Town Theme" (街のテーマ, Machi no Tēma?) plays as the background music to Regole.

Gallery
[
]