Red Giant (ウルフラマイター, Urufuramaitā?, lit. Wolframiter), also known as Wolframiter, Gemini, and Wolfmeister, is a recurring enemy in the series. It is a member of the Iron Giant family.
The Red Giant has gone by a variety of names. Its Japanese name is "Wolframiter". In its original appearance in Final Fantasy VII the name was erroneously localized as "Wolfmeister".
In its other appearances no attempt has been made to keep the original Japanese meaning. Its common name, "Red Giant", originating in Final Fantasy VIII, refers to its status as a red version of the Iron Giant.
Appearances
[
]
Wolfmeister is an enemy fought on the train to North Corel, and is only fought once in the game. It attacks using physical attacks and the Atomic Ray skill.

Red Giant is an optional boss in the final dungeon. It is summoned when the player retrieves the Prison Key from the Prison Cell in the Armory. It gives verbal responses that are triggered when the player uses certain actions against it. Red Giant fights with a sword until its HP drops below 9000, at which point it drops the sword and fights with fists instead. It has a Triple Triad card.

Two versions of the Gemini are fought together in the final dungeon, one blue giant wielding a sword and one red giant wielding a club. When together, they can attack using the skill Double Reaper, while alone they fight using Reaper and Leaping Swing.
Due to appearing as a pair of red and blue enemies, the enemies do not use the localized name of Red Giant.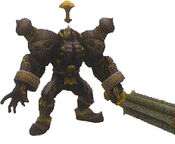 Only the red Gemini returns as an enemy fought at Besaid, Thunder Plains, Mt. Gagazet, and Via Infinito floors 21-23. It fights using the physical attacks Skullcracker and Reaper, and when in Oversoul, will instead use a wide arrange of -aga elemental magic in addition to White Mage-Hater.

Red giants are daemons fought in the Costlemark Tower in Duscae and in Insomnia in Chapter 14. They also appear at night after an iron giant has been felled. They wield colossal flaming swords and resist most attacks.
Other red-colored giant-type enemies also appear as tougher versions of the red giant.
Red Giant is a tougher version of the regular iron giant and under Auto-Regen. It can be killed with a Killsight strike.

Gallery
[
]
Etymology
[
]
[view · edit · purge]The mythology and legends of many different cultures include monsters of human appearance but prodigious size and strength. Giant is the English word, coined 1297, commonly used for such beings, derived from one of the most famed examples: the gigantes of Greek mythology.
[view · edit · purge]Wolframite is a tungsten-based mineral containing iron, and is a primary source of tungsten ore.