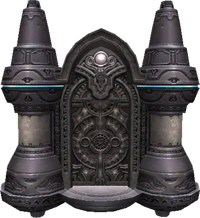 Ramparts are one type of Archaic Machinery that appears in the Ruins of Alzadaal. They resemble doors, but are far more destructive than their passive counterparts. They may fall within the Arcana class of monster, and perhaps could be considered a sub-class; however, at this time they are separately classified, and it is not known whether they share other traits of those classes.

Notorious Monsters
[
]
Archaic Rampart
Dormant Rampart
First Rampart
Fourth Rampart
Reactionary Rampart
Second Rampart
Third Rampart
Special Attacks
[
]
Astral Gate: Cone Attack damage and Knockback.
Biomagnet: Teleports target to the Rampart.
Reinforcements: Summons a pet (varies between Ramparts).
Roller Chain: AoE damage and Bind. Used only when the doors are closed.
Etymology
[
]
[view · edit · purge]Rampart is a defensive wall or bank around a castle, fort or settlement.