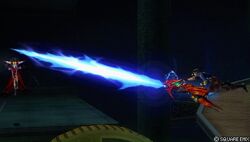 Ragnarok Blade (ラグナロクブレード, Ragunaroku Burēdo?) is a recurring ability in the series. It is an ability used by Laguna Loire, but also by Bartz Klauser who copies it from him.
Appearances
[
]
Ragnarok Blade is an aerial HP attack for Laguna, obtained at the start of the game. It requires 30 CP to equip (15 when mastered), 130 AP to master, has Melee High priority, and can induce Wall Rush. Ragnarok Blade is also an attack for Bartz, having the same requirements and statistics as Laguna's, but in addition has Wall Rush HP Damage +5%.
Gallery
[
]
Etymology
[
]
Ragnarok Blade specifically refers to the spaceship named Ragnarok from Final Fantasy VIII, whose name is also a pun for Laguna's in Japanese.
[view · edit · purge]Ragnarök is an event in Norse mythology that is similar to the Apocalypse. It is an event that is set off by the death of the god Balder, which was orchestrated by Loki. The Ragnarok was a final clash of all the major entities of Norse mythology. This caused all of the human spirits up in Valhalla to come down for the final battle.
This bloody encounter ebbs with the destruction of the universe and Balder along with a little handful of entities that are put in the bodies of children and only contain memories of the world before Ragnarok. Those entities would become mortal, and would live again in a new world of plenty and just existence.