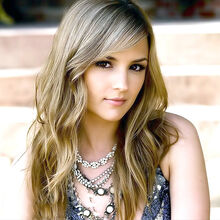 Rachael Leigh Cook (born October 4, 1979) is an American actress and voice actor. She is the original starring voice of Tifa Lockhart of Final Fantasy VII since her first audial portrayal from joint Disney and Square series Kingdom Hearts. Into the Final Fantasy series, she is still currently her voice actor, first debuting in the series in the sequel movie follow up Final Fantasy VII: Advent Children in 2005.
Beyond the Final Fantasy series, Rachael Leigh Cook has voiced Tifa in the Kingdom Hearts series. She has stated in an interview for Kingdom Hearts II that she enjoys playing Tifa and described her as "very strong physical and emotionally, but also very sensitive," and as "very multi-dimensional"[1]. Furthermore, she has voiced characters in other video games, such as Star Wars: The Old Republic. Her career in acting includes roles in several television series and films, and she is notable for her roles in She's All That (1999) and Josie and the Pussycats (in 2001).
Community content is available under
CC-BY-SA
unless otherwise noted.