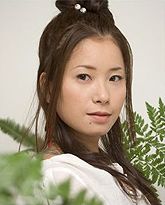 Regarding the theme song, my first concern was to find someone to sing it. The Asian-inspired theme had nothing to do with the choice, but since I was personally interested in Okinawan music my staff and I looked at various CDs of that particular region. That's when one staff member found some CDs by Rikki. I had never heard a voice quite like hers and I contacted her immediately.

Nobuo Uematsu on Final Fantasy X
RIKKI (リッキ, Rikki?), real name Ritsuki Nakano (中野律紀, Nakano Ritsuki?) is a Japanese folk singer. Born on Amami Island in 1975, Rikki began singing at the age of four, and has since released seven original albums, four singles, and one mini album.
She made her debut into Final Fantasy in 2001 when she was selected to perform the theme song for Final Fantasy X, "Suteki Da Ne (Isn't It Wonderful?)", translated into English as "Isn't It Wonderful?". She was chosen for her quiet, gentle singing voice. This song is also featured in her third single, "Suteki da ne -featured in FINAL FANTASY X-", which also included an instrumental version of "Suteki da ne" as well as "Pure Heart", a vocal arrangement of Aerith's Theme from Final Fantasy VII.
She would later perform for the 20020220 music from Final Fantasy and the "VOICES music from Final Fantasy" orchestral concerts, singing the theme song.
External links
[
]