Cid Pollendina
:
Oh, shut up and help me remodel the Quistis Trepe (Opera Omnia) page!
Please expand this article into a full one. The following tasks need to be completed:This request can be discussed on the associated discussion page. Remove this notice upon completion.
A SeeD operative and instructor at Balamb Garden. She holds the record as the youngest to pass the SeeD exam and is looked up to by many a student. Dismissed from her faculty position due to a certain incident, she puts her vast SeeD experience to use accompanying Squall in their mission to assassinate the sorceress.

Description
Quistis is a playable character in Dissidia Final Fantasy Opera Omnia who can be recruited during the Lost Chapter Balamb Whiplash.
Profile
[
]
Appearance
[
]
In her default appearance, Quistis wears a salmon zipped vest, with a gold-rimmed fold-over collar, that is zipped just below the ribcage exposing her midriff. She wears brown arm warmers and brown gloves, a long salmon skirt with a silver waistband, black pants, a brown belt and black shoes.
Her first alternate costume is based on the uniform she wore as a SeeD instructor in the opening of Final Fantasy VIII. She also sports a pair of round-rimmed glasses and is depicted with Save the Queen, the fourth and final evolution of her whip in the source game.
Personality
[
]
This section in Dissidia Final Fantasy Opera Omnia is empty or needs to be expanded. You can help the Final Fantasy Wiki by expanding it.
Story
[
]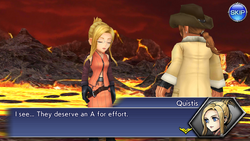 Quistis appears in the volcanic underground of the Capta Est Tower, which reminds her of assisting Squall with his field exam in Fire Cavern. She begins searching for the rest of the party, but is shocked when the first person she sees is Laguna. He is perplexed that she calls out to him by name. The presence of knights in full armor and people with non-human features confuses Quistis, but the arrival of a Behemoth forestalls any clarification.
Once the monster is defeated, Squall and Zell are able to explain the situation to her and tout her skills as a SeeD to the rest of the party. Quistis is surprised and amused that Squall openly expresses relief (albeit parsimoniously) that she's all right. Y'shtola joins her in mimicking his taciturn speech. Quistis is pleased to find someone who shares her own sense of humor.
Quistis compliments Zell on his improved combat skills. The party discusses the actions of Seifer. When she hears that he, Raijin, and Fujin are running around trying to conduct their own investigation, her reaction is to sarcastically say that they "deserve an A for effort" and isn't surprised that Seifer's headstrong refusal to cooperate with others has led him to antagonize them on several occasions. Even so, as his former teacher she does say that she wants him to succeed.
Gameplay
[
]
Equipment
[
]
Weapons
Armor
Abilities
[
]
Gallery
[
]
Allusions
[
]
Quistis' whip skills are based on arguably rare Blue Magic she can acquire in Final Fantasy VIII: Laser Eye, Degenerator, Homing Laser, and Ray-Bomb.

Laser Eye is Quistis' innate Blue Magic; Laser Whip is her S1 in Opera Omnia.

As with Squall, Quistis's weapon strengths do not follow the order given in FFVIII, going 1-3-2-4-2+
This section in Dissidia Final Fantasy Opera Omnia is empty or needs to be expanded. You can help the Final Fantasy Wiki by expanding it.