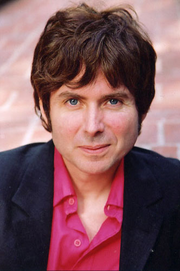 Quinton Joseph Flynn (born October 10, 1964) is an American voice actor. In the Final Fantasy series, he is the voice of the Turk Reno of the Compilation of Final Fantasy VII, and Isaaru of Final Fantasy X.
He is best known for his roles of Axel of the joint Disney and Square RPG series Kingdom Hearts, Raiden of the military stealth action series Metal Gear Solid, Silver the Hedgehog in Sonic the Hedgehog series, Henry Cooldown of underground alternate history action series No More Heroes, and Orphen in the video game Orphen: Scion of Sorcery.
Community content is available under
CC-BY-SA
unless otherwise noted.