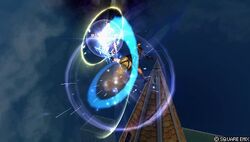 Quick Hit (クイックトリック, Kuikku Torikku?, lit. Quick Trick), also known as is a recurring ability in the Final Fantasy series.
Appearances
[
]
Quick Hit allows a character to attack quickly with greatly reduced recovery time, usually fast enough for the attack to be used several times before the enemy can move. It is found at the end of Tidus's section of the Sphere Grid.
In the original Japanese and American versions it costs 12 MP, but for the European, International and the HD Remaster releases, the cost was increased to 36 MP with twice the delay, being switched from a Rank 1 attack to a Rank 2. The MP cost can be reduced or removed with the Twin Stars or Three Stars items. Regardless of the higher MP cost and increased recovery time, the skill is an integral part of many strategies in defeating some of the toughest bosses, such as Nemesis, the Dark Aeons, and Penance.
Quick Hit is a Bravery to HP attack for Tidus. It has five variations—from Quick Hit A to Quick Hit E—which include both ground and aerial move types. They all attack the opponent with four acrobatic moves, and have an additional Wall Rush effect.
Quick Hit retains five different variants. Their CP and AP costs are different.
Gallery
[
]