Quelb, also known as Kelb, is a town in Final Fantasy V, populated by the lycanthropic werewolf race. It is accessible on both second world and merged world. Kelger Vlondett rules this town.
Story
[
]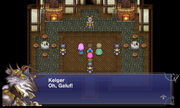 On their way to Drakenvale, Bartz and his friends pass through Quelb. Reaching the gates of the seemingly deserted town, Galuf suggests a visit to Kelger, one of the Warriors of Dawn who fought Exdeath alongside him 30 years ago. Entering his manor, the party is ambushed by Kelger and some of the townsfolk. Even after realizing the intruders are friends, Kelger challenges Bartz on a one-on-one fight and uses his Lupine Attack, being heavily injured in the process.
Bartz reveals he used a technique taught to him by his father, Dorgann, who was also a Warrior of Dawn. Surprised, Galuf and Kelger discuss this fact, and the latter allows the townsfolk to open the gates to Drakenvale so that the party could retrieve the Dragon Grass to heal the remaining wind drake so as to fly into Castle Exdeath.

Quests
[
]
Healing at the Inn
[
]
In the inn there is a wolf who serves a meal to the party, which recovers their HP and MP, and for dessert, he gives out 8 Potions for free. However, each time the meal is served, the number of sheep grazing in the village decreases by one. As there are initially three sheep in the village, the party can only use this free service three times.
Shops
[
]
Armor Shop
[
]
Weapon Shop
[
]
Items
[
]
Enemies
[
]
Outside (Galuf's World)
Outside (Merged World)
Musical themes
[
]
"Harvest" is the background theme for the town of Quelb. It is also the background theme for Carwen and Istory.

Gallery
[
]
Etymology
[
]