Calls down debris from outer space, dealing massive damage to all enemies.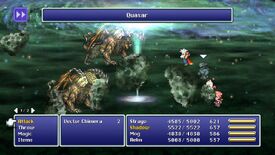 Quasar (クエーサー, Kuēsā?) is a recurring ability in the Final Fantasy series. Its effect differs from each appearance.
Appearances
[
]
Quasar is a Lore that deals non-elemental, unblockable, and Defense-ignoring damage, costing 50 MP to cast. It is the second strongest Lore spell that can be learned, though extremely late, with a spell power of 57.
Strago can learn Quasar from Goddess, Dark Force, or Gilgamesh in the Advance release.

Quasar is an ability used by Valfodr Lv. 99. It deals non-elemental damage as well as inflict large amount of wound damage to the entire party.
Gallery
[
]
Etymology
[
]
[view · edit · purge]A quasi-stellar radio source ("quasar") is an energetic and distant active galactic nucleus. Quasars are extremely luminous and were first identified as being high redshift sources of electromagnetic energy, including radio waves and visible light, that were point-like, similar to stars, rather than extended sources similar to galaxies.