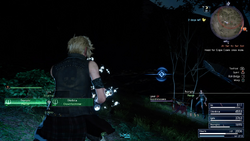 Charge toward foes, landing multiple blows with a higher critical rate that usual.
Puncture (ペネトレイト, Penetoreito?, lit. Penetrate), also known as Piercer, is a recurring ability in the series. While used by others in the series, it is commonly used by Prompto Argentum.
Appearances
[
]
All in bullet time baby!

Prompto in Chapter 14 when using Piercer
Piercer is a Technique for Prompto that targets with a firearm to hit multiple enemies in a line. It costs one tech bar to use and reduces enemy defense by inflicting Compromised. It can knock enemies into vulnerable status and is decent at destroying appendages. Piercer can be followed up with an attack from Noctis.
Gallery
[
]