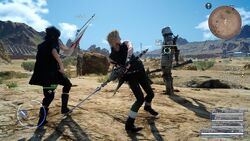 Prompto is a party member in Final Fantasy XV. He is a ranged fighter who wields firearms. He is the weakest physical fighter of the party with the lowest stats, but can inflict enemies with status ailments, enfeeble daemons and take photos. When directly controllable via character swap or in his DLC episode, the player can use various firearms for different effects.
Prompto equips firearms as his primary arm, including handguns and shotguns. Prompto's secondary arm is machinery, which allows him to equip tools like the Auto Crossbow and Bioblaster. He can also be equipped with Elemancy. Prompto has the lowest HP of the party and is the least durable, often being the party member who needs rescuing most often. As Noctis's party member, Prompto learns First Aid abilities from the Recovery grid in the Ascension that let him recover his own health when low.
In Chapter 12-13, Prompto will be temporarily unavailable.
Whenever the player uses character swap to take control over Prompto during battle, he will have a sub-machine gun on his back like he does in Episode Prompto. The sub-machine gun disappears once the player switches control again.
Prompto takes photos which are viewed at the end of the chapter and when the player rests.

Prompto's statistics, disregarding stat boosts from weapons or attire.
| Level | HP | Strength | Vitality | Magic | Spirit |
| --- | --- | --- | --- | --- | --- |
| 1 | 178 | 21 | 21 | 11 | 38 |
Prompto learns the following Teamwork skills in the Ascension Grid. He will use them independently during battle.
| Name | Effect |
| --- | --- |
| First Shot | Perform a pre-emptive firearm strike that adds 1 segment to the Tech Bar. Damage modifier: x1.5 |
| Scintilla | Counterattack with a firearm and inflict Stop when own HP is low. Damage modifier: x2. Only use once. |
| Shock Drop | Inflict Shocked for 3 seconds on an enemy Noctis is attacking in mid-air using machinery. Damage modifier: x2 |
| Ballistic | Unleash a firearm barrage on an area when own HP is high. Damage modifier: x0.4 (every hit) |
| Sharp Shock | Increases Shock Drop damage modifier to x4. |
The group Teamwork skills also apply to Prompto. The linking skills make linked attacks (see below) stronger, whereas the Deathblow abilities have him perform specific abilities on enemies that are in vulnerable state. Which Deathblow Prompto uses depends on equipment; if he has a machine equipped, he will only use that. Ultimate Deathblow boosts the damage done.
All in bullet time, baby!

Prompto when using Piercer
Prompto has six Techniques. He starts with Piercer, which shoots at the targeted enemy, piercing through them, and will strike any enemies in the bullet's line of fire. This attack may inflict a debuff lowering the enemy's defense, and can stagger enemies and/or break their appendages. It costs a single tech bar.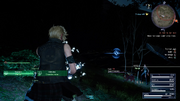 Starshell will illuminate the area and weaken enemies, especially daemons. The effect it has on enemies depends on the enemy; some get Threatened, some Enervated, some both, and some are unaffected entirely. It costs a single tech bar.
Recoil overloads machinery on a nearby enemy to deal heavy damage. Prompto needs a machine equipped. It costs two tech bars.
Gravisphere launches an orb that will suck in enemies and provides continuous damage. Damage is based on Prompto's Magic stat. Prompto needs a machine equipped. It costs two tech bars.
Trigger-Happy makes Prompto shoot two separate barrages of bullets towards an enemy, finishing with a single powerful shot. When Prompto wields the Calamity or Death Penalty each shot has a chance of inflicting Poison or Instant Death on the opponent. With Quicksilver it's almost guaranteed to break all of the enemies' appendages. The critical version fires twice as many bullets in the same span, and all shots will be critical hits. It costs three tech bars.
Snapshot allows him to take additional photos during a battle, with a maximum of five savable at a time. The critical version takes a selfie, and the photos are saved to auto-snaps. It costs a single tech bar.
Limit Break lets Prompto break the damage limit of 9,999 damage with his Techniques. Recoil and the final hit of Trigger Happy most reliably break the limit, with Piercer also able to occasionally do so.
When parrying an enemy's attack (called link-strike) or blindsiding them as Noctis wielding either a one-handed sword, polearm or a greatsword, Prompto has a chance to join in for a linked attack. He must be near Noctis (with Friendship Band equipped he can be a little further away), not incapacitated, and not amid performing another action. He has one link-strike per weapon type, but various blindside links; if a blindside link triggers with Prompto the game chooses randomly which attack to use, although some require him to have a machine equipped as a secondary arm to appear. Linked attacks only happen in the main game when playing as Noctis. Usually linked attacks only affect the player's target, but some of Prompto's machinery linked attacks have an area of effect.
| Player's weapon | Prompto's weapon | Type | Description |
| --- | --- | --- | --- |
| Sword | Firearm | Link-strike | Prompto slides in from behind Noctis to shoot the enemy while Noctis steps out of Prompto's way, then pulls him up. |
| Sword | Firearm | Blindside | Prompto rushes up from behind and shoots the enemy over Noctis's head while the latter grouches down. |
| Sword | Firearm | Blindside | Noctis cartwheels to make way for Prompto to come in and fire a barrage of bullets into Noctis's target. |
| Sword | Machine | Blindside | Noctis spins to make way for Prompto to come in and attack Noctis's target with a machinery weapon whose recoil throws him back and Noctis catches him. (Video) |
| Polearm | Firearm | Link-strike | Noctis strikes his target with his spear while Prompto comes up from behind to follow up with a barrage of bullets. May inflict Stop (only if Noctis's spear attack hits.) (Video) |
| Polearm | Firearm | Blindside | Noctis stabs his spear into the ground and as he is bent over Prompto leap-frogs over him to fire a shot the enemy while midair. |
| Polearm | Firearm | Blindside | Noctis jumps high into the air with the polearm "dragoon-style" and lands with the tip of the spear stuck on the ground. Prompto spins on it like a pole dancing move while shooting at Noctis's target. |
| Polearm | Machine | Blindside | Noctis stabs the enemy while Prompto slides from behind him to attack Noctis's target with a machinery weapon. |
| Greatsword | Firearm | Link-strike | Noctis and Prompto swap weapons, Noctis shooting the enemy with Prompto's handgun while he wields Noctis's greatsword. (Video) |
| Greatsword | Firearm | Blindside | Noctis and Prompto charge at Noctis's target together, Noctis striking with his greatsword after which Prompto pulls him back and fires at the enemy with his handgun. |
| Greatsword | Firearm | Blindside | Noctis manifests is greatsword to slams down at his target while Prompto jumps onto the blade to act as a weight to boost the power of Noctis's swordstrike. Then shoots at the enemy. |
| Greatsword | Machine | Blindside | Noctis throws his greatsword into the air, jumps to catch it midair, ready to plunge it at the enemy. Prompto comes up from behind to attack Noctis's target. Both attacks connect at the same time. |
Prompto can link with Aranea in Episode Prompto. The Beauty of Teamwork Archive Highlight is obtained on the bridge in the room before the Barbarus corridor when the player performs a link-strike.
The Prompto-Aranea pairing has four link-strikes: one with the knife and three with the handgun. The link-strikes trigger randomly when holding the Attack button, unlike in the main game. Link-strikes are a good way to break enemies and put them into the vulnerable state and thus susceptible to Prompto's powerful Crackshot command. Episode Prompto does not display a message on-screen when Prompto and Aranea link.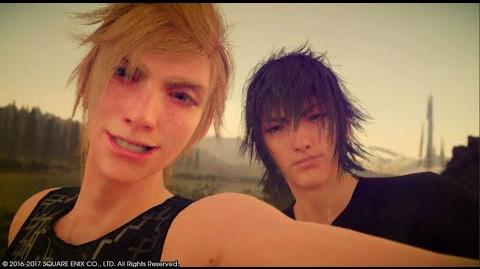 Knife link-strike: Prompto stabs the enemy and Aranea swoops in with her spear and Prompto rolls over her body to give her space to attack.
Attacking an enemy long-range with the basic handgun: Aranea climbs onto Prompto who throws her in the air, and she lands onto the enemy, reminiscent of the dragoons' traditional Jump command.
Attacking an enemy mid-range with the basic handgun: Aranea climbs onto Prompto and uses him as a "launching pad" to propel herself toward the enemies like a torpedo while Prompto topples over.
Attacking an enemy close-range: Aranea approaches from behind and dives under Prompto to attack his target while he rolls over her.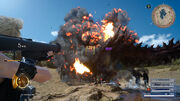 The player can unlock character swap for Prompto from the Ascension Grid for 20 AP. Prompto attacks enemies from afar with three different firearms and a grenade, and can deal heavy damage on vulnerable foes with Crackshots, which grant AP upon killing like Noctis's warp-strikes.
When a nearby enemy is in a Vulnerable state, Prompto can perform a crackshot on them by pressing the warp button. If close enough, Prompto can perform up to three crackshots on a single enemy before their Vulnerable state fades, assuming they can survive all three. Getting an enemy vulnerable and then switching to Prompto won't let him fire crackshots. While controlling Prompto, crackshottable enemies will glow blue. Crackshots may debuff enemies.
Prompto wields his equipped handgun, which doesn't run out of ammo, and is fired with the standard lock-on button, while the new lock-on button is reserved for the standard technique-opening button. Like Noctis, Prompto must reload after eight shots, though he reloads faster, and can shoot while moving or dodge-rolling. He can fire two shots in quick succession by dodge-rolling after firing a shot. He can't use machinery or magic while controlled, temporarily de-equipping his machine, not gaining its stat boosts. Bullets can't travel through allies.
Besides his equipped handgun, Prompto also has access to the Alea Bazooka, a recoilless rifle with three missiles; the Rapidus SMG, a submachine gun with 100 bullets; and a single Lumen Flare, an EMP grenade. Any strength boosts from his equipped handgun also count toward the damage of his Bazooka and SMG, but his other three weapons do not gain the handgun's passive effects. The Rapidus SMG and Alea Bazooka are aimed and fired in a third-person perspective with the same controls as the handgun, but do not lock onto targets. While aiming Prompto can move or quickly strafe a short distance in any direction with the dodge button. The Lumen Flare can be readied, similar to an elemancy flask, by holding the fire button, which displays a blue ring indicating the blast radius, and letting go will toss it.
Upon fully consuming a weapon's ammunition, Prompto must wait 15 seconds for it to recharge (22.5 seconds for the Alea Bazooka), and it will only recharge during battle and while he is being controlled. Unlike his handgun and the Rapidus SMG, the Alea Bazooka doesn't suffer a damage penalty when shooting from further away. Though Alea Bazooka rockets will eventually detonate mid-air, their range is impressive enough to cover virtually any combat arena, and strike something before that happens, assuming swifter enemies do not dodge them. The Lumen Flare is capable of sending nearly any enemy into a Vulnerable state, making them open for Crackshots.
Prompto's special abilities are called Bullet Arts. Starshell functions the same as his usual technique of the same name. Selfie Shot takes selfies with his opponents, costing two bars, and the photos are saved to manual-snaps. Trigger-Happy is essentially an always-critical version of the technique he uses while playing as Noctis, shooting one long stream of critical shots from a stationary position, before finishing with a final shot that is now an explosive round which excels at putting enemies into a vulnerable state. Trigger-Happy is only available after clearing Episode Prompto.
Prompto's HP and Vitality are lower than the rest of the party's and, unlike the others, he cannot phase through attacks, and thus doesn't have MP. Instead, holding the dodge button causes him to crouch anywhere, similar to Noctis in cover, boosting his HP-regeneration. Though the Serene status isn't applied, he still can't recover HP if poisoned. He has fast sprinting animations and more flexible dodge-rolls.
Like Gladiolus and Ignis, Prompto has Impervious by default when he is playable (Noctis needs to unlock it in Ascension for 333 AP), and has a bigger recovery window than Noctis. Impervious negates the damage the player just took from some attacks by pressing the dodge button just after getting struck, even restoring Max HP or canceling an ailment inflicted by the attack.
Prompto can equip every firearm besides the Cerberus, which is reserved for Noctis. Lion Heart is obtained from Episode Prompto.
Prompto uses various imperial weaponry when playable via character swap (sans the sniper rifle and the blade) and during Episode Prompto.
Weapon
Capacity
Attack
Modifiers/Notes
Image

Lumen Flare

1*/50 Main game*Episode Prompto; limited spawns
480
One flare can be tossed at a time, similar to using Elemancy as Noctis
Deals non-elemental firearm-based physical damage, scaled off Prompto's Magic stat
Does not inflict friendly fire
A projectile that produces a blinding flash of light when thrown, halting enemies in their tracks.

Audax Blade

Melee
214
Exclusive to Episode Prompto
Can stealth-kill imperial soldiers who have not noticed the player yet
Deals non-elemental sword-based physical damage.
A mechanical sword designed for use in facilities where firearms are prohibited. The blade flips out upon activation.

Rapidus SMG

100
207
Infinite ammo with the The Clever's Talisman equipped
Aimed and fired in a third-person perspective with the same controls as the handgun, but does not lock onto targets
Damage penalty when shooting from further away
Deals non-elemental firearm-based physical damage
Shots will spread after 10 consecutive shots and even more so after 30 shots
A rapid-fire submachine gun perfect for taking down enemies in tight spaces. Deals devastating damage.

Alea Bazooka

3
512
Aimed and fired in a third-person perspective with the same controls as the handgun, but does not lock onto targets.
Ammo recharges slower than the other weapons when used in character-swap
Does not suffer a damage penalty when shooting from further away.
Shell deals non-elemental firearm-based physical damage
Blast deals magical fire-elemental damage scaled off Prompto's Strength stat
A recoilless rifle that fires shells which spray shrapnel upon impact, damaging enemies across a wide area.

Sagitta Rifle

5
252
Exclusive to Episode Prompto
Aimed and fired in a first-person perspective in a similar manner to Cerberus
Can defeat imperial troops instantly with a headshot
Deals non-elemental firearm-based physical damage
A prototype sniper rifle distributed to only a select few imperial marksmen. Allows the wielder to scope out foes and pick them off from afar.

Flagrum SMG

∞
100
Only available on the snowmobile in Episode Prompto
Locks on to targets but does little damage
Replaces handgun in weapon set
Deals non-elemental firearm-based physical damage
A rapid-fire submachine gun designed to facilitate firing single-handedly. Allows the wielder to fire with one hand and steer a vehicle with the other.
Some accessories are exclusive to Prompto.
Prompto can be fought during training sessions at campsites. He doesn't have a bestiary entry, but the player can scan his HP and weaknesses/resistances in the Wait Mode. New training levels are unlocked as the player levels up, and the Final Trial is open in Chapter 15. Completing a training session earns 5 AP. Prompto uses his Techniques against the player, some with altered effects.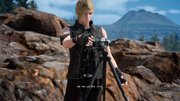 Whenever Prompto is in the party, he can take pictures with his camera. Photography is Prompto's leisure skill that levels up when he takes more photos are rests at havens and lodgings. When the party rests, the player gets a slideshow of the photos Prompto took that day, which can be saved to the player's menu and/or shared via social media. If the player shares the photos Prompto takes with the share option from the slideshow, the pictures will have a watermark. The other party members can comment on the photos as the player looks at them.
He can learn new filters from quests and from leveling up his skill. The player can set in the menu what filters and camera he can use. When driving around in the Regalia, Prompto sometimes asks to take a photo, and appeasing his request is a small quest. Sometimes during car rides, Prompto will ask Noctis of whom he wants him to take pictures of, and Noctis can answer himself, Gladiolus, Ignis, or "nothing". For the rest of the day, Prompto will photograph the person Noctis said he wanted more pictures of. Once Prompto masters his skill, the "nothing" option becomes the option to take photos of Prompto.
Vyv Dorden in Lestallum asks the player for photos, which Prompto will take. Some places, such as Galdin Quay, have a spot where the player can ask Prompto for a photo there. Gentiana and Carbuncle can appear randomly on the photos' background.
At the end of the game Noctis asks Prompto for a picture, which the player can choose from the photos they saved during their game. This image becomes the player's Certificate of Completion.

Prompto's favorites are rooted in comfort and indulgence, enjoying easy-to-eat and savory, saucy, and spicy foods, ranging from roasted drumsticks, filled meat pies, meaty stews and soups, to rice and curry dishes; he also enjoys salad as he had when he was a child. Though not entirely reflected in his favorites, he has an affinity for fast food, from potato chips and Crow's Nest. From time to time he suggests the party to stop and take a break for food, and the party likes to tease him about it. Out of the group Prompto's favorites are some of the easiest to obtain, and is reflective of him having the most appreciation for Ignis's cooking skills.
Eating Prompto's favorite foods lets him perform a more powerful version of his Techniques. Eating Plump 'n' Pungent Tofu has Prompto gag in disgust in the camping scene, but it has no detrimental effect on his performance in battle.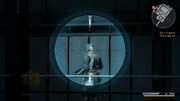 Prompto's downloadable episode allows him to be directly controllable, unlike in the main game where he is Noctis's party member. It takes place at the same time as chapter 11 of the main game and follows Prompto as he tries to escape imperial capture and reunite with his friends, with the help of Aranea.
The episode features the same mechanics as character swap, but with the addition of the Audax Blade, a folding sword that serves as a melee weapon, and the Sagitta Rifle, a sniper rifle with five bullets that functions similarly to the Cerberus weapon that Noctis can equip. Instead of being able to recharge ammo, Prompto must find and pick up weapons scattered around the area. He has one slot reserved for the Rapidus SMG, Alea Bazooka, or Sagitta Rifle, which he can only carry one of; picking up a different weapon will cause Prompto to discard his current one, while picking up another of the same weapon will restore the ammunition to its maximum capacity.
Prompto can access a snowmobile equipped with the Flagrum SMG, a submachine gun with infinite ammunition. The episode features some stealth elements, allowing Prompto to sneak through areas to position himself in advantageous locations before engaging his foes.
In addition to crackshots, Prompto can perform an overkill strike on Vulnerable imperial soldiers, simultaneously killing the enemy and taking their weapon. He can also perform a stealth-kill on imperial soldiers that have not noticed him, in which he immediately eliminates his opponent and takes their weapon for his own.
Aranea joins the party at several points during the episode.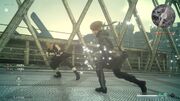 The player can fight Prompto in the Final Fantasy XV multiplayer expansion.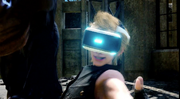 At E3 2016, it was shown Prompto would be directly playable in first person by using PlayStation VR. It was to feature first-person shooter gameplay and a scene where the player could sit in the passenger's seat while Cindy drives the Regalia around Lucis. This project eventually evolved into Monster of the Deep: Final Fantasy XV, a standalone PlayStation VR exclusive fishing game announced at E3 2017.
When controlling Prompto via character swap, his Secondary Arm slot will be occupied by whichever weapon is currently selected; if his handgun is selected, this slot will be empty. The Rapidus SMG, Alea Bazooka, and Lumen Flare can have their models and details viewed in the same manner as normal weapons, and use the same icons and descriptions as in Episode Prompto.
Community content is available under
CC-BY-SA
unless otherwise noted.