Product placement is an advertising technique to promote products through appearances in film, television, video games or other media. Though real world products or allusions to them had appeared in the Final Fantasy series before, they were used as allusions or easter eggs, and an actual paid product placement first appeared in the Final Fantasy VII sequel movie, Final Fantasy VII: Advent Children. Final Fantasy games also sometimes nod toward Square Enix's own products, but these instances are not included in this article. Instead, such ties fall into collaboration.
Appearances
[
]
The Panasonic FOMA P900iV is a mobile phone model released in Japan by mobile phone manufacturer Panasonic in 2004 in conjunction with the release of Final Fantasy VII: Advent Children featuring prominently as the phone used by Cloud Strife. The phone came pre-installed with Final Fantasy media, and the mobile game Before Crisis -Final Fantasy VII- was released specifically for the P900iV.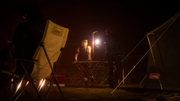 The camping gear used by the party is by Coleman, including all tents, stoves, chairs, cutlery and mugs. The items are said to be owned by Gladiolus Amicitia, Noctis Lucis Caelum's companion, with the gear even appearing on the game's Japanese cover art (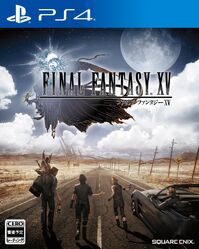 ).
The party's clothes are designed by the fashion label Roen, designed by Hiromu Takahara, Creative Director of Roen. The contract Square Enix made with Roen when they first started making Final Fantasy Versus XIII contained a number of designs for the game and the designs contracted during that point are still being used for Final Fantasy XV. Takahara also designed the looks for Cor Leonis and Stella Nox Fleuret, the latter of whom was replaced by Lunafreya Nox Fleuret for Final Fantasy XV. Takahara also designed the suit King Regis Lucis Caelum wears and Noctis can get as downloadable content.
Luna's wedding dress was designed by Vivienne Westwood and there is a quest centered around viewing it.
American Express has the company's logo on a shop window. Those who obtain a new American Express Gold Card or Business Gold Card in Japan before August 31st, will receive Final Fantasy XV and the first hundred will also get a Play Arts Kai Noctis figure. Those who spend over 150,000 yen within three months will also be rewarded with a 10,000 yen gift card featuring one of five Final Fantasy XV designs displaying the game's characters.[1]
Nissin Cup Noodle appears as a product the party can eat at a camp. Billboards show advertisement for the noodles and there is a Nissin Cup Noodle truck in Lestallum the player can buy noodles from. There is a quest of finding the best topping for the noodles that sends the player to slay a monster. Afterward the party talks how much they like Nissin Cup Noodles. The English voice actors recorded two versions of the lines—one sincere, one eye-rolling ironic. The latter was used for the game.[2]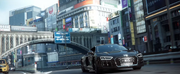 This CG movie complements the game and takes place concurrently with the beginning of Final Fantasy XV. An Audi R8 appears, officially named Audi R8 Star of Lucis, and while the film is produced in CGI, Square Enix and Audi partnered to create one in real life. Multiple Audi billboards appeared in the trailer for the movie showed at Uncovered: Final Fantasy XV, but other real life products spotted in it are the crane of Japan Air Lines at the top of one of the buildings, a Uniqlo clothes line sign on a building, and a Samsung Galaxy Gear smartwatch Nyx Ulric wears. An advertisement for Beats Electronics appears in the film.
Gallery
[
]
References
[
]