Procurement points yield items thar reappear over time.

Loading screen description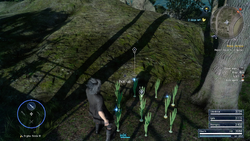 Procurement points are places where the player can collect food ingredients and minerals in Final Fantasy XV. Their yields respawn over time (around once a day). Talking to tipsters at restaurants can unveil local procurement points, and the player can simply stumble upon them while traveling. Asking about the area from a tipster can also refresh the procurement points around, so the player can farm a desired item by sleeping and talking to a tipster in-between harvests. A procurement point always has three ingredients to pick up. The player can hold the action button when picking them up to avoid accidentally jumping.
Elemental deposits are found near every haven and in certain dungeons.
List of items obtained from procurement points
[
]
Food ingredients
[
]
Minerals
[
]
Color stone "shard" and silver/gold/prismatic "dust" grade minerals are found in Leide
Color stone "ore" and silver/gold/prismatic "shard" grade minerals are found in Duscae
Color stone "crystal" and silver/gold/prismatic "ore" grade minerals are found in Cleigne
A mineral deposit can give either silver/gold/prismatic type minerals, or color stone ingredients. Which specific ones the player gets is random.
Gallery
[
]