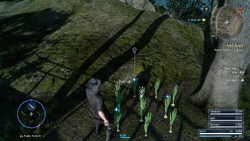 Procurement points are places where the player can collect food ingredients and minerals in Final Fantasy XV. Their yields respawn overtime (around once a day). Talking to tipsters at restaurants can unveil local procurement points, and the player can simply stumble upon them while traveling. Asking about the area from a tipster can also refresh the procurement points around, so the player can farm a desired item by sleeping and talking to a tipster in-between harvests. A procurement point always has three ingredients to pick up. The player can hold the action button when picking them up to avoid accidentally jumping.
Elemental deposits are found near every haven and in certain dungeons.
List of items obtained from procurement points
Edit
Food ingredients
Edit
Name
Find
Aegir Root
Galdin Quay region
Alstroom
Coernix Station - Alstor region
Lucian Tomato
Northeast from Hammerhead, by the rampart
Wild Onion
Wiz Chocobo Post and Cauthess Rest Area region
Leiden Potato
Longwythe Rest Area region
Eos Green Peas
Common in Leide (one spot is near where Bandersnatch spawns north of Hammerhead), Saxham Outpost field
Funguar
Galdin Quay region
Vesproom
Meldacio Hunter HQ region
Malmashroom
Malmalam Thicket
Chocobean
Collectible Leide and Duscae regions
Beetroot
Duscae region (one procurement point is along the road that leads south from Coernix Station - Alstor; Map)
Cleigne Mollusk
Caem Shore
Cleigne Darkshell
Caem Shore
Birdbeast Egg
Common
Leiden Pepper
Common in Leide
Schier Turmeric
Common in Duscae and Cleigne
Hulldagh Nutmeg
Taelpar Rest Area region
Leiden Sweet Potato
Longwythe Rest Area region
Smoking Wood
Taelpar Rest Area region
Tenebraen Oak
North from Cape Caem (Map)
Kettier Ginger
Rock of Ravatogh
Allural Shallot
Daurell Caverns, Steyliff Grove (underwater boss room)
Duscaen Orange
Duscae region (one tree is south of Cauthess Rest Area; another tree is east from the first tree; Map)
Sweet Pepper
Leide region
Garlic
Duscae and Cleigne regions
Minerals
Edit
Color stone "shard" and silver/gold/prismatic "dust" grade minerals are found in Leide
Color stone "ore" and silver/gold/prismatic "shard" grade minerals are found in Duscae
Color stone "crystal" and silver/gold/prismatic "ore" grade minerals are found in Cleigne
A mineral deposit can give either silver/gold/prismatic type minerals or color stone ingredients. Which specific ones the player gets is random.
Community content is available under
CC-BY-SA
unless otherwise noted.