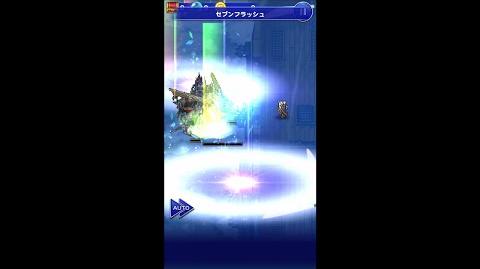 Prismatic Flash (セブンフラッシュ, Sebun Furasshu?, lit. Seven Flash), also known as 7-Flush and Flash, is a recurring ability in the series. It is one of the results the player can get from the Slots command, and is generally associated with Setzer Gabbiani.
The Japanese name of this attack is likely a play on words, as the words "flash" and "flush" are both transliterated into Japanese as フラッシュ (furasshu?). Flush is a Poker term and therefore suitable for a gambler.
Appearances
Edit
Prismatic Flash is one of the results from Setzer's Slots ability, used by matching



. It deals non-elemental magic damage to all enemies with a spell power of 84.
Prismatic Flash is an ability of the Slots command, used by matching

. It deals non-elemental magic damage to all enemies.
Etymology
Edit
[view · edit · purge]In optics, a prism is a transparent optical element with flat, polished surfaces that refract light. The traditional geometrical shape is that of a triangular prism with a triangular base and rectangular sides, and in colloquial use "prism" usually refers to this type.
[view · edit · purge]A flash is a device used in photography producing a flash of artificial light (typically 1/1000 to 1/200 of a second) at a color temperature of about 5500 K (Kelvin) to help illuminate a scene. A major purpose of a flash is to illuminate a dark scene. Other uses are capturing quickly moving objects or changing the quality of light. Flash refers either to the flash of light itself or to the electronic flash unit discharging the light.
Community content is available under
CC-BY-SA
unless otherwise noted.