x50px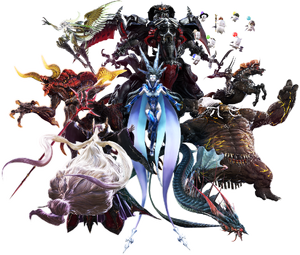 The primals (蛮神, Banshin?, lit. Barbarian Gods), also known as eikons, are magical beings in Final Fantasy XIV worshiped by the beast races of Eorzea. They are classic Final Fantasy summoned monsters, and may be related to both the Echo and the sudden new attacks from the Garlean Empire who considers them a threat. Each beast race has its own primal and plans to use them to its own ends, either to harass the city-states, self protection or to fight the Garleans.
Primals are born during a moment of chaos, such as during one of Eorzea's Umbral Eras. When there is an abundance of aether and people are praying for aid, the prayers manifest the aether into a physical form. Due to the nature of their existence, a primal must consume aether from its surroundings, becoming a threat to the world of Hydaelyn. The summoning rituals need an ample supply of aether—the most convenient being crystals. The aether can also be acquired with other tools, such as the enigmatic horn and tablet stored on Seal Rock, or the eye of a great wyrm.
While usually an embodiment of the summoner's desire, there are cases when the summoner transforms into a primal like Ysayle or Yotsuyu, who turned into Shiva and Tsukuyomi respectively. A primal can also be summoned into a structure, just like Alexander. There are also primals like Bahamut and Moggle Mog created in the image of their namesakes.
Ten years before the start of the original Final Fantasy XIV, the dragon Midgardsormr was killed in the Battle of Silvertear Skies and its seal on the aether beneath Silvertear Lake was broken. After this, the primals were easily summoned by the beast tribes. Since the most convenient supply of aether for the summoning rituals is a massive amount of the same crystals and shards used by crafters, some of the beast races stopped selling theirs to the city-states.
Once summoned, primals can "temper" other beings, instilling fanatical loyalty to the primal and creating a secure wellspring of faith. Usually this is an intentional process, but a few primals (such as Ramuh) have shown distaste for it, implying it is a natural byproduct of their existence. While those gifted with the Echo are immune, their soul's aether may still be consumed by a nearby primal if they ever lose their mortal form.
Due to the presence of primals in Eorzea and the massive amount of energy needed to summon them the flux of aether over Silvertear Falls has been disrupted and the land of Eorzea will slowly perish if this process isn't reversed. The Scions of the Seventh Dawn strive to eliminate any primals that manifest. This is also one of the reasons behind the Garlean Empire's campaign to destroy the primals, according to Emperor Varis. Gaius van Baelsar hoped to achieve a permanent means through the Ultima Weapon's ability to absorb primals.
The Ascians have been teaching the means to summon primals, and for ancient Allag, the means to bind them. The creation of primals has an effect on the mothercrystal Hydaelyn, seemingly as part of the goal to revive Zodiark. The primals and the tools to summon them have proven useful in undoing an Ascian, as the supply of aether needed to summon a primal can, if focused, shatter an Ascian trapped in White Auracite. Further, an Ascian's soul can be consumed directly by a primal if its host body is slain by one; primals feed on aether, and a soul is comprised of it.
Known primals
Edit
By patch 4.3, there are 25 known primals, though one of them was only mentioned.
The term "Elder Primal" indicates those worshiped/summoned in older eras (i.e. before the Sixth Astral Era), often from cultures that no longer exist. For example, Bahamut was originally summoned in the Third Astral Era, whereas Shiva is a recent "newborn" primal.
Valefor was a primal mentioned by Gagarua that hasn't appeared. Enemies named Valefor appear in the Labyrinth of the Ancients, but these are voidsent dahaks, not primals or even egis, so Gagarua may have been bluffing.
The Warrior of Light discovers that some youths from Little Ala Mhigo were plotting to summon Rhalgr in the same way beast tribes summon their deities to combat the Garleans, which would have created Rhalgr as a primal. This plot is halted before they do anything reckless.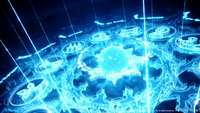 However in the End of an Era cutscene, Louisoix summons the Twelve, appearing briefly during the Battle of Carteneau. In A Realm Reborn, Gaius van Baelsar hints that these could have actually been Primal versions of the Twelve, since they were summoned through aether and faith, just like the beast tribes summons their deities.
It is currently unknown what primals are worshiped by beast tribes like the Qiqirn, Gigas, or Mamool Ja, if they even worship any at all.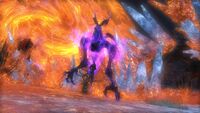 Egi are tiny versions of primals, made of concentrated elemental essence. Only Summoners can call them forth after binding their power with the aid of their Soul Crystal. These egi bear many characteristics of the respective primal, but lack the personality and aether-draining properties of the full-scale forms. Currently, players are only allowed to summon egi versions of Ifrit, Titan, and Garuda, but a much larger and more fully-formed version of Bahamut can be summoned via Demi-Bahamut.
Some primals summon minions that are similar to egis, such as Ramuh's Grey Arbiters and Titan's Granite Gaolers.
Magicites
Edit
In the Heaven-on-High Deep Dungeon, players have a small chance of receiving magicite, only for use inside said dungeon. Magicite are used to summon a simulacrum of certain primals, based on the user's memories of past encounters with them.
These kind of summons are similar to those from other Final Fantasy titles by making their appearance just to unleash their signature attack before leaving the place.
Currently, players are only allowed to summon Ifrit, Titan, Garuda, and Odin. The former three instantly kill all normal enemies on the floor and deal roughly 20% damage to bosses, while also granting temporary invincibility. Odin, however, will instantly kill even bosses, but is extremely rare, and best saved for the final boss on floor 90 if acquired.
Other appearances
Edit
Some of the primals appear in Final Fantasy Trading Card Game.
Some of the primals appear on Triple Triad cards in the version available via Final Fantasy Portal App.
Official Artwork/Renders
Screenshots
Etymology
Edit
The Garlean word "eikon" (Borrowed from the Allagans) may derive from the Greek word eikon, translated in English as "image," which is the root word for the English work "icon" whose early definition was religious imagery.
In the original opening CG of version 1.0, the shapes of Ifrit and Titan emerge from the aether pillar formed after the death of Midgardsormr. Unlike Ifrit, Titan did not appear until A Realm Reborn.
On the bonus disc included with the physical collector's edition of Final Fantasy XIV: A Realm Reborn, Midgardsormr is erroneously referred to as an elder primal.[1]
The terms for those enthralled by the primal match with their element: Ifrit's Tempered, Leviathan's Drowned, Ramuh's Touched ("touched" by the primal's divine influence), and Odin's "sundered" due to how his blade tears one "asunder."

"Tempered" is the default term for a being brought under a primal's thrall, as violet Sylphs have been referred to as "tempered in the levin light of Ramuh." This was confirmed during Live Letter XXVII, where it was mentioned each primal has a phrase correlating to its element and their form of tempering.[2]

Though Hildibrand referred to Enkidu as a primal after his summon, many fans originally believed him to be an egi due to the nature of his summoning and behavior. However, on an updated list confirming how many primals there were since Patch 3.15, Enkidu was confirmed to be a full primal.[3]
Square Enix's Eorzea Cafe served dishes based on the primals.
As of patch 4.4, 15 of the 25 known primals have their own minions: Odin, Bahamut, Ifrit, Titan, Garuda, Leviathan, Ramuh, Shiva, Alexander, Ravana, Bismarck, Lakshmi, Susano, Shinryu, and Tsukuyomi.
In the quest "Gods of Eld" Unukalhai mentions that the term the Allagans used for primals is "Eikons." Given the time between the fall of Allag and the present this would mean all the eikons from the Allagan era are elder primals since they have been around for at least 5000 years. [4] This also heavily implies that the Garleans took the Allag term since the term "primal" gives them a godly identification and with Allagans and Garleans being atheists they use the term "eikon" to deny primals this hint of divinity.
References
Edit