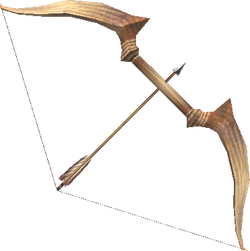 Power Bow (パワーボウ, Pawā Bō?) is a recurring weapon in the series.
Appearances
[
]
Great Bow (Power Bow in Easy Type) has 30 attack and 50 accuracy. It can be used by Cecil, Rosa, Rydia, Edward, Cid, Palom, and Porom.
In the 3D versions, it can only be used by Rosa and provides 20 attack, 75 accuracy, and +3 Strength. It can be found in Damcyan.
Power Bow is an archery weapon that provides 30 damage and 540 delay. It deals 3.33 damage per second and accumulates 145 TP per hit. It can be equipped by level 16 Warrior, Paladin, Dark Knight, Ranger, and Samurai.
It can be bought for 99 Sparks of Eminence from Isakoth in Bastok Markets (E-11), Rolandienne in Southern San d'Oria (G-10), Fhelm Jobeizat in Windurst Woods (J-10), and Eternal Flame in Western Adoulin (H-11).
Power Bow is a weapon for Trey. It provides 12 Attack Power and can be bought from Cetme for 2000 gil. It sells for 200 gil.
Gallery
[
]