m

Line 1:
Line 1:
 

[[File:FFX Poison Breath.png|300px|thumb|Poison Breath as seen in ''[[Final Fantasy X]]''.]]

 

[[File:FFX Poison Breath.png|300px|thumb|Poison Breath as seen in ''[[Final Fantasy X]]''.]]

−

'''Poison Breath''' is a recurring [[Enemy Abilities|enemy ability]] in the series. It is often a powerful [[Poison (Element)|Poison]]-elemental attack that targets the entire party and inflicts the [[Poison (Status)|Poison]] status. In ''[[Final Fantasy XI]]'', it is also a [[Blue Magic]] spell. Poison Breath generally deals much more damage than [[Poison Gas]].

+

Poison Breath is a recurring [[Enemy Abilities|enemy ability]] in the series. It is often a powerful [[Poison (Element)|Poison]]-elemental attack that targets the entire party and inflicts the [[Poison (Status)|Poison]] status. In ''[[Final Fantasy XI]]'', it is also a [[Blue Magic]] spell. Poison Breath generally deals much more damage than [[Poison Gas]].

 
 
 

==Appearances==

 

==Appearances==
---
Revision as of 00:47, 17 September 2012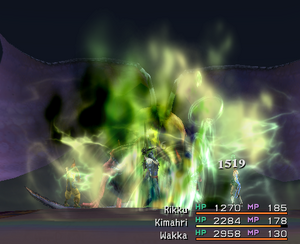 (Poison Breath, 毒ブレス?, lit. Doku Buresu) is a recurring enemy ability in the series. It is often a powerful Poison-elemental attack that targets the entire party and inflicts the Poison status. In Final Fantasy XI, it is also a Blue Magic spell. Poison Breath generally deals much more damage than Poison Gas.
Appearances
Poison Breath is an enemy ability used by various enemies in the game, including Bahamut and Archeosaur. It inflicts major non-elemental damage to the party as well as inflicting Poison.
Poison Breath is an enemy ability that inflicts Poison on the entire party. It is used by CMD.Grand Horn and Bagnadrana. The weaker variant, Poison Storm, inflicts Poison on one party member, and is used by the Harpy, while Poison Blow, used by Velcher Task, does the same thing.
Poison Breath is an enemy ability used by Evrae, which deals Poison and moderate non-elemental damage to the entire party.
Template:FFXI Spell Poison Breath is a Blue Magic spell learned from Hounds. It is a water-element breath attack spell that may also inflict poison. It costs 1 Blue Magic Point to set, and grants MND+1 when set.
The formula for this spell appears to be (Current HP)/10 + (Blue Mage level)/1.25. For example, at level 22 and 400 HP, damage is approximately 57 with no other bonuses applied.
Blue Mages can set Poison Breath along with one of the following spells to create the Clear Mind combo.
Crawlers also use an ability called Poison Breath. However, this slightly different attack cannot be learned by Blue Mages.
Poison Breath is an enemy ability used only by Aeronite and Dheed. It inflicts area-based damage as well as Poison to those in the area.
Poisonbreath is an enemy ability used by Dualhead Hydra and Twinhead Wyvern. It inflicts non-elemental damage and Poison to both characters.
Poison Breath is an enemy ability used by Dark Dragon. It deals Dark elemental damage and may cause poison.
Gallery
Community content is available under
CC-BY-SA
unless otherwise noted.