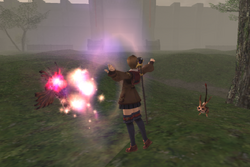 Black magick that induces poisoning within the body, causing a gradual loss of HP.
Poison (ポイズン, Poizun?), also known as Venom, is a recurring spell in the Final Fantasy series. It is associated with the element Poison and the status effect of the same name, which makes the target lose HP over time. Sometimes, the spell will merely inflict the status ailment, while in other games it may deal damage as well. Recurring upgrades of this spell are Bio and Scourge.
Appearances
[
]
Poison is a level 2 Black Magic spell that has a base power of 20 and can be bought for 700 gil at Canaan, Tozus, and the Vikings' Cove. It has a 60% chance of doing minor non-elemental damage as well as inflicting Poison to one or all enemies. It is also an enemy ability used by Pugman, Mummy, Far Darrig, and Sleipnir.
Causes Poison.

Description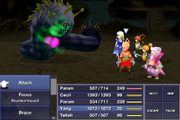 Poison (originally called Venom) is a low-level Black Magic spell that can be used by Rydia, Tellah, Palom, and Fusoya. It has a casting time of 1, and costs 2 MP to use. It has a 90% accuracy in 2D versions, and 80% accuracy in 3D versions. It always inflicts 1 HP worth of damage to the target. It can also be cast by using Poison Axe as an item.
Poison is a Black Magic spell that inflicts Poison to one or all enemies at the cost of 2 MP. The imposter Rydia along with Palom and Rydia already known the spell.
Poison is a low-rank spell, costing 2 MP to cast and merely inflicting the Poison status. It can be learned by Fusoya, Palom, Rydia, Black Mage, and Biggs by default, and Leonora (level 15).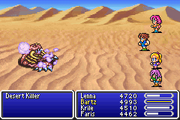 Poison is a level 2 Black Magic spell that costs 2 MP to use. It can be bought for 290 gil at Karnak and Crescent. It is one of the spells that can be cast from the Wonder Wand for free, and is also an Added Ability for the Poison Axe. Poison can be cast by Calofisteri, Enuo, Flaremancer, and Omniscient. Poison can be used as part of Spellblade to add Poison-element to weapon attacks.
Poison is a Attack spell that costs 3 MP to use. It is learned through the esper Ramuh at a x5 rate, has a power of 25, a hit rate of 100, and is vulnerable to Runic. Poison is an Added Ability of the Poison Rod and Venom Claws weapons. Poison can be cast by Hidon, Kefka (first battle), Level 50 Magic, Level 80 Magic, Magic, Tentacle, and Tunnel Armor.
The Poison spell inflicts Poison status on a single enemy and does no damage. It requires 2 MP to cast. Poison can be bought at the Sector 5 Materia Shop for 1,000 gil.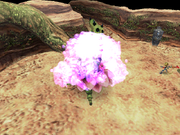 Poison is a Black Magic spell learned by Vivi through the Lightning Staff. It costs 8 MP to cast, and requires 35 AP to learn. The spell has a 60% base accuracy. It can be reflected and works with Return Magic. Poison can be also cast by Mimic, Quale, Tantarian, and Torama.
Poison is a Black Magic spells available to Red Mages, Black Mages, Scholars, and Dark Knights.
When cast, the Poison status effect occurs, causing gradual HP loss. Even more powerful versions of Poison are available to certain enemy creatures as spells and there are dozens of abilities and Weapon skills that can inflict a Poison status effect.
Poison courses through the character's veins, draining HP for the duration. Remove with an Antidote.

Description
In the original version Poison is a Green Magicks spell that poisons an enemy damaging them over time. Poison is a Green Magick 2 license that costs 30 LP and the spell consumes 10 MP to cast. It can be bought in Rabanastre and Nalbina for 500 gil. Its stronger counterpart is named Toxify and is an area of effect spell.
In the Zodiac versions, Poison is a Black Magicks 5 license, costs 40 LP and consumes 8 MP and cannot be bought; it is only found in a treasure in Dalmasca Estersand's Sand-Swept Naze.
Poison has 60% base chance to inflict the target, but is affected by the caster's magick power and the target's vitality.
The spells Bio and Bioga in the Japanese version were localized as Poison and Poisonga, respectively.
Filthy blood of revenge, inject! Poison!
Poison is a spell that only the Black Mage can learn. It costs 150 JP to learn, and requires 6 MP to cast. It has a speed of 34.
Spews out poison gas, poisoning target.

Description
Poison is learned by Alchemists and Red Mages. It costs 10 MP to cast, is Dark elemental, and has a range of 4. It is stealable through the ability Steal: Ability, and is also susceptible to Return Magic, and cannot be reflected. It is learned for 100 AP from the Druid Mace for the Alchemist and the Silver Rapier for the Red Mage.
Poison is a spell learned by the Alchemist for 150 AP from the Druid Mace, costing 8 MP to cast and having a range of 4. It inflicts Poison on a target.
Poison is a level 1 Enfeebling spell, exclusive to the Black Mage class, and caps at level 100. It inflicts Poison to one enemy, can be used only once per battle, and can be used up to three times a day.
Poison is an ability that has 25 uses and inflicts poison to one enemy. This ability is used by Red Bone, Hornet, Medusa, Serpent, Cactus, Mantcore, Anaconda, Keller, Mou-Jya, Scorpion, Ko-Run, Scylla, Tiamat, Ghast, Basilisk, and Revnant.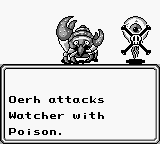 Poison is a status inflicting ability that has 20 uses, it also increases a Robot's HP by 9. It inflicts Pois to a single enemy. This ability can be used by Anaconda, Arachne, Basilisk, CatWoman, Champgno, DarkRose, F-Flower, F-Spider, FengLung, FireMoth, Gloom, Grippe, Hornet, Killer, Lamia, Madame, Mantcore, Medusa, Moth, Mushroom, Naga, P-Flower, P-Spider, P-Worm, Pathogen, Plague, Red Bone, Revenant, Scylla, Serpent, Shiitake, SunPlant, Swallow, Tarantla, Toadstol, Virus, Wyrm, Wyvern, and Sho-gun.
Venom is a Black Magic spell can inflict Poison on an enemy or cure a poisoned ally. It cost 12 MP to use, and it can be bought for 700 GP in Elan (Past & Present) and Lae (Past).
Poison is an enemy attack inflicts Poison on one enemy. This ability is used by Fungus, Starfish, Scorpion, Mushroom, Pentagon, Griffon, BlackCat, Hunter, Ammonite, Amoeba, Horus, Medusa, Osiris, Lamia, Siren, Naga, Scylla, Succubus, Sphinx, and Echidna.
Poison is a Dark Magic spell and costs 2 AP to cast. The spell can be given to any character by having a Poison Tome in the character's inventory. The spell can only be purchased in Guera and Urbeth for 500 gil.
Poison is an Intelligence-based ability, and comes in both Rare and Rare Plus versions. The rare version has a base Attack of 750, a base Defense of 720, a maximum level of 60, and a Cost of 12. It has a fast leveling rate.
Shoot a magical missile that raises poison level. Contracting poison causes continual damage and may lower Physical/Magical attack.

Description
Non-Final Fantasy appearances

[

]
Poison is a magic spell in Birth by Sleep for Terra, Aqua, and Ventus. It can be melded to make the following abilities Poison Edge, Poison Block, Bio Barrage. It also appears in Dream Drop Distance, for both Sora and Riku.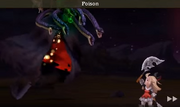 In Bravely Default, Poison is a level 2 Black Magic. It has a 75% chance to cause the status ailment poison in one target. It costs 4 MP to use. It can be bought in Ancheim for 400 pg.
Poison is also a level 2 Sword Magic that imbues a weapon with the status ailment poison for ten turns and has a 75% chance to cause poison in one target when attacking.

Gallery
[
]