The PlayStation 3, abbreviated as PS3, is a video game console created by Sony. Together with the Nintendo Wii and Microsoft Xbox 360, it is a seventh-generation console. It was released in November 2006 in Japan, the United States, Canada, Hong Kong, and Taiwan. The European release, however, was delayed until March 2007. All models are compatible with original PlayStation games; and certain early models are also compatible with PlayStation 2 games (see below). It was the first console with access to the PlayStation Network.
As of May 29, 2017, the console has been formally discontinued in New Zealand. North America, and Japan[1], and other parts of the world on March 8, 2019. It was succeeded by the PlayStation 4 in 2013 in all territories. As of May 2021, PlayStation Network services remain operational for this console.
Hardware revisions
[
]
The initial models of the PlayStation 3 released in 2006 (retroactively referred to in the gaming community as the "fat" or "Spider-Man" models) were not well-received due to high price points, low storage, and limited third-party game support. Nonetheless, these models were perhaps the most complete in the series, as they included PlayStation 2 support through their discontinuation in late 2007. The first two North American models (CECHA and CECHB) included the PS2's main processors on the motherboard itself to achieve complete backward compatibility. The next two models, the European CECHC and the North American CECHE, removed the PS2 main CPU and transferred its roles to software emulation. By late 2007, all PS2 compatibility was dropped.
On September 1, 2009, the "slim" model of PlayStation 3 was released. The PS3 Slim was 32% smaller than the original and consumed 34% less power. In 2010, Sony silently launched new revisions of the Slim console (CECH-210x) featuring both a smaller CPU and a smaller GPU than original models, which led to another 22% reduction in power consumption, lower heat output, noise reduction and 7-ounce (200g) weight reduction. CECH-210x consoles started to appear in Japan in March, in North America in May, and in Europe in June.
In mid-2012, a third "superslim" model (CECH-4xxx) was launched worldwide, slashing the power requirements by 15-20% versus the 2009 models and further reducing the size and weight of the console itself. It also replaced the automatic slot-load disc mechanism with a fixed manual-open tray. The base model included an integrated 12 GB solid-state drive (SSD).
Game
Release Date
Metascore
Japan
North America
Europe
Final Fantasy X/X-2 HD Remaster
December 26th, 2013
March 18th, 2014
March 21st, 2014
85
Final Fantasy XIII
December 17, 2009
March 9, 2010
March 9, 2010
83
Final Fantasy XIII-2
December 15th, 2011
January 31st, 2012
February 3rd, 2012
79
Lightning Returns: Final Fantasy XIII
November 21, 2013
February 11, 2014
February 14, 2014
66
Final Fantasy XIV: A Realm Reborn* Discontinued
August 27, 2013
August 27, 2013
August 27, 2013
78
Final Fantasy XIV: Heavensward* Discontinued
June 23, 2015
June 23, 2015
June 23, 2015
N/A
Game
Release Date
Metascore
Japan
North America
Europe
Final Fantasy Origins
June 24, 2009
January 10, 2011
N/A
79
Final Fantasy IV
June 27, 2012
N/A
N/A
N/A
Final Fantasy V
April 6, 2011
November 22, 2011
May 4, 2011
80
Final Fantasy VI
April 20, 2011
December 6, 2011
June 2, 2011
80
Final Fantasy VII
April 9, 2009
June 2, 2009
June 4, 2009
92
Final Fantasy VIII
September 24, 2009
December 17, 2009
February 4, 2010
90
Final Fantasy IX
May 20, 2010
June 15, 2010
February 26, 2010
94
Final Fantasy Tactics
May 13, 2009
September 17, 2009
N/A
83
Vagrant Story
August 12, 2009
March 1, 2011
December 22, 2009
92
Chocobo no Fushigi na Dungeon
August 25, 2009
N/A
N/A
N/A
Chocobo's Dungeon 2
August 25, 2009
N/A
N/A
N/A
Chocobo Racing
February 10, 2009
N/A
N/A
N/A
Crystal Defenders
March 11, 2009
August 6, 2009
July 23, 2009
63
Demos
[
]
Related titles for PS3
[
]
Limited editions
[
]
This bundle was released in Japan along with Advent Children Complete and a copy of the Final Fantasy XIII demo. It prominently features Cloud Strife's Fenrir badge.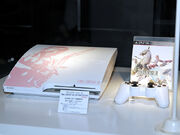 This bundle was released on December 17, 2009 for the release of Final Fantasy XIII. It is a ceramic white 250GB PS3 slim with a pink image of the character Lightning on the surface. It also includes a white controller, as well as the limited edition version with Lightning on the cover of the game. This bundle was only available in Japan.
A similarly themed PlayStation 3 controller was also sold with the Chinese edition of Final Fantasy XIII upon that edition's release. The bundle included a ceramic white controller with a pink image of Lightning on the bottom right, the Chinese edition of the game, and a special PlayStation Network card for an avatar download.

This bundle was released in Japan on December 15th, 2011 for the release of Final Fantasy XIII-2. It is a black 320GB PS3 slim with a white image of Lightning from a promotional poster, with hot-pink accents.
A special edition Mog PlayStation 3 was available for prize winners of the Word to your Moogle tour.
A special controller for Lightning Returns: Final Fantasy XIII was announced. It was manufactured by HORI, sports the logo for the game and comes with a special cleaning cloth. It does not support wireless gameplay as it is a cabled controller. It was released on November 21st, 2013.[2].
Another limited-edition controller was provided as a Gamestop exclusive, sporting a lightning decal throughout the controller while also featuring an image of the game's internal clock.
Gallery
[
]
Trivia
[
]
External links
[
]
References
[
]