Relm
:
I couldn't miss the chance to practice my drawing!
This article is in need of a few pictures. Perhaps you can help by uploading a picture of The Battle Background for each location can be found by clicking on the link in the talk page.
Planet R is the world in which Final Fantasy V and its sequel Final Fantasy: Legend of the Crystals take place. The merged world is unnamed in Final Fantasy V, but referred to as Planet R in Legend of the Crystals.
Bartz's world
[
]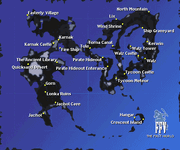 Also known as The First World, it is where Bartz, Lenna, and Faris live.
Galuf's world
[
]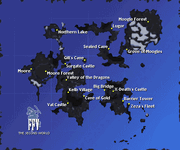 Also known as The Second World, it is where Galuf and Krile live.
Merged world
[
]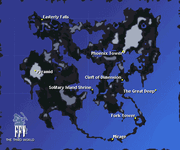 Also known as the Third World, the first two worlds combined, its geography consisting of both worlds stacked atop of each other.
Interdimensional Rift
[
]
The final dimensional region, also known as the Cleft of Dimensions in the SNES, and N-Zone in the Final Fantasy Anthology version. It was created by Enuo during his time in power 1,000 years ago. It consumed Phantom Village at some point, transporting it to the current time period unchanged. There are multiple areas to traverse and many bosses holding the way to Exdeath. The original world was split in two (by splitting the original Crystals) to seal away this dimension.
Musical themes
[
]
"Four Hearts" from Final Fantasy V
The overworld theme for Bartz's world is "Four Hearts". The overworld theme to Galuf's world is "Unknown Lands", and the overworld theme on the merged world is called "A New World". Final Fantasy V is one of the few early Final Fantasy games where the main theme is not also the overworld theme.

Gallery
[
]