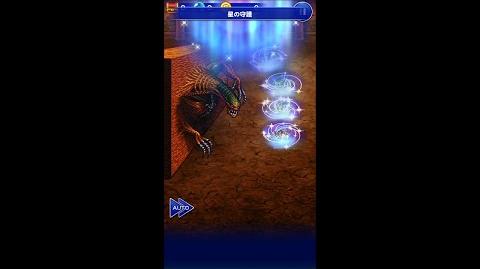 Planet Protector (星の守護, Hoshi no Shugo?, lit. Star Guardian) is a recurring ability in the series mostly associated with Aerith Gainsborough from Final Fantasy VII. It typically protects against damage or provides invincibility.
Appearances
Edit
Planet Protector is Aeris's level 3 Limit Break, unlocked after killing 80 enemies with her while at her level 2 Limit Break. It grants temporary invincibility to all party members.
Planet Protector is Aerith's Ground HP ability. It shields both the player and Aerith from damage and flinching for five seconds. Planet Protector will also protect against HP damage, but the opponent's Bravery still drops to 0. It also cancels Chase Sequences if the player is attacked while being protected, though the player will not suffer any damage. As she is an Assist-only character, this means that the ability is used when Assist and HP attack buttons are used together on the ground, but it is a purely defensive move.
Planet Protector is one of Aerith's Soul Break moves in Final Fantasy Record Keeper. Granted by the hat Keepsake Ribbon (VII), Aerith can temporarily raise the party's Attack.
The card depicting Aerith in the promotional art also comes with the Planet Protector ability.
Community content is available under
CC-BY-SA
unless otherwise noted.