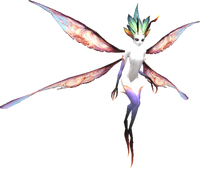 Pixies are creatures in Final Fantasy XI. They were spoken about in repeated eyewitness accounts received from the battlefields during the Crystal War, as creatures resembling what until then had been nothing more than legend in Final Fantasy XI. All reports indicated that these pixies, as they came to be called, had the power to wield magic as well as manipulate the winds. At the time, such accounts were dismissed by the nations' armies as hallucinations, brought about by the enormous mental strains of war.
Most wild pixies will generally follow a habitual route over a large area. Pixies will cast white magic on nearby players, including all tiers of the Cure spell along with Raise II and Raise III. However, Pixies often must rest a short time period after casting a spell before they are able to use another (unless they are being directly threatened).
Regular Monsters
[
]
Farfadet
Pixie
Seelie
Sidhe
Sprite
Unseelie
Notorious Monsters
[
]
Baba Yaga
Belphoebe
Bhishani
Carabosse
Fay
Feeorin
Melusine
Peaseblossom
Skuld
Teugghia
Tiffenotte
Urd
Verthandi
Campaign Allies
[
]
NPCs
[
]
Adrasteia
Callisto
Jubliant Pixie
Watchful Pixie
Special attacks
[
]
Autumn Breeze: Self HP recovery.
Cyclonic Blight: Area of effect high damage. Inflicts Sleep and Stun. Heals the user and erases harmful status ailments; if there are none to remove, may bestow Regain, Regen, Protect, or Shell. Fuath only.
Cyclonic Torrent: Area of effect damage plus unremovable Mute status. Only used by Carabosse, Lorelei, Urd, and Verthandi.
Norn Arrows: Area of effect high damage, knockback, and Encumbrance. Veela subfamily and Bhishani only.
Spring Breeze: AoE TP reduction and Sleep status.
Summer Breeze: Self Erase effect. If there are no effects to erase, the pixie instead gains Regain status.
Winter Breeze: AoE Dispel.
Zephyr Arrow: Ranged damage, Knockback, and Bind status.
Gallery
[
]
Etymology
[
]
[view · edit · purge]Pixies are mythical creatures of folklore, considered to be particularly concentrated in the high moorland areas around Devon and Cornwall, suggesting some Celtic origin for the belief and name. Akin to the Irish and Scottish Aos Sí, pixies are believed to inhabit ancient underground ancestor sites such as stone circles, barrows, dolmens, ringfort or menhirs