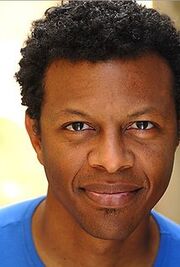 Phil LaMarr (born January 24th, 1967) is an American actor and voice actor. He is the voice of Reddas and Gijuk in Final Fantasy XII, and Ramza Beoulve in Final Fantasy Tactics: The War of the Lions and Dissidia Final Fantasy NT.
Roles
Related games
Background
Outside of the series, LaMarr is best known for his roles as the titular protagonist of Cartoon Network's Samurai Jack series and as John Stewart, better known as Green Lantern, in the Justice League animated series. He is also the voice of Vamp in the Metal Gear series, John White in the Infamous series, Christopher Jacobs in the Mercenaries series, and Virgil Hawkins known as his alter-ego Static in the American cartoon series, Static Shock.
External links
Community content is available under
CC-BY-SA
unless otherwise noted.