Template:Infobox character FFXII
I'll be going too, of course. Every good sky pirate needs a partner, right?

Penelo
Penelo is a playable character in Final Fantasy XII and Final Fantasy XII: Revenant Wings. She is Vaan's childhood friend and dreams of being a dancer, and has learned martial arts from her elder brothers. Following an encounter with a sky pirate and the misunderstanding it causes, Penelo becomes involved in a world-scale conflict that could determine the fate of Ivalice. She also makes a cameo playable appearance in Final Fantasy Tactics A2: Grimoire of the Rift.
Profile
Appearance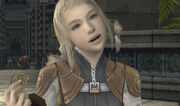 Penelo is an athletic young girl, with honey eyes and blonde hair tied in pigtails with a short fringe and two long side bangs. She wears a gold-and-cornflower blue slim outfit with short white lacy sleeves and bronze wing-like armlets. She wears bronze bangles and gold-and-cornflower blue knee-high boots.
In Final Fantasy XII: Revenant Wings, Penelo's hair is longer, styling it in two plaits, and she wears a short gray top that bares her midriff, baggy dark red pants with gold patterns and purple criss-crossing along the sides, and gold shoes that curve at the toe.
Personality
Try to grow up, please.

Penelo to Vaan
As Vaan's close friend, Penelo acts as the "careful side" of his reckless persona and often tries to appeal to his common sense, but without a desirable effect. She is one of the many orphans in Rabanastre and was taken under the wing of Migelo, a local shopkeeper, and helped him since then. Due to the war taking the lives of her parents, she lives in fear of the Archadian Empire, but Penelo overcomes her fear thanks to her unlikely friendship with Larsa Solidor, a member of the Empire's ruling family.[1] Penelo, together with Vaan, acts as a humanizing element representing the common folk caught in the crossfire of international conflict. Looking to Vaan and Penelo keeps Ashe grounded and able to resist the temptations of the Occuria, and looking to Penelo helps make Larsa sympathetic to the Dalmascan plight.
The official Brady Games strategy guide refers to Vaan and Penelo, "like brother and sister". In Final Fantasy XII: Revenant Wings, Penelo's relationship with Vaan becomes ever closer, suggesting a romantic connection.

Story
Gameplay
In Final Fantasy XII Penelo has high MP, Magick Power and Vitality, but her Strength and physical stats are low. Her initial licenses are White Magick 1, Daggers 1 in all releases, Light Armor 1 in the original releases, First Aid and Mystic Armor in the Zodiac releases. Her Quickenings are Intercession, Evanescence and Resplendence.
In Final Fantasy XII: Revenant Wings Penelo has a set job, which is a hybrid of White Mage and Dancer, and she wields staves as her weapon, wears dance gear as armor, armlets as her accessories, and uses White Magick. She cannot do physical harm to enemies, as her normal action is to cure nearby allies.
In Final Fantasy Tactics A2: Grimoire of the Rift Penelo's unique job is Dancer, though she now has the degenerating dances of the Final Fantasy Tactics Dancer. She can access viera jobs. To recruit Penelo, the player must be at the last quest before fighting Illua and go to Fluorgis and an event bubble will pop up.

Creation and development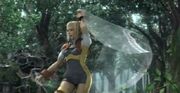 An early Final Fantasy XII trailer included the scene depicted in Penelo's official promo art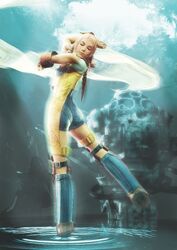 , of her dancing in a forest, but this scene was never seen in the final product. A similar scene was later seen in Final Fantasy XII: Revenant Wings.
The scene where Penelo is tied up in Ba'Gamnan's Lhusu Mines hideout was cut from the original Japanese version of the game to get a lower rating. Producer Akitoshi Kawazu has explained the decision to do this thusly: "[...] at the time right before the Japanese release there were various incidents in the real world which...basically there were some similarities there that would have made it a difficult thing to release at the lower age rating that we wanted."[2]
This is a rare case of a Final Fantasy game being censored for Japan, but not for overseas versions. The "incidents in the real world" Kawazu refers to, but does not specify, may refer to Tsutomu Miyazaki, a Japanese serial killer who abducted and murdered four young girls in Saitama and Tokyo Prefectures from August 1988 to June 1989. His death sentence was upheld by the Japanese supreme court in January 2006, two months before Final Fantasy XII came out.
Voice
Template:Listen Penelo is voiced by Marina Kozawa (credited as Yuna Mikuni) in the Japanese version and Catherine Taber in English. She shares her English voice actor with Andoria Kaya Tranka Fam Forturio from Final Fantasy Type-0 HD.
In both languages, Penelo and Vaan speak in a more casual style than Balthier, Basch, and Ashe, who speak more formally.

Musical themes
Template:Listen Penelo's theme in Final Fantasy XII is simply titled "Penelo's Theme" (パンネロのテーマ, Pannero no tēma?). It is a light, cheerful piece that prominently features woodwind instruments. It is played near the beginning of the game, when Penelo scolds Vaan for stealing, and when she joins him in the Nomad Village.
A piano arrangement of the theme is included on the Piano Collections: Final Fantasy XII album.

Other appearances
Penelo has made appearances in the following games in the Final Fantasy series:
Non-Final Fantasy guest appearances
Penelo has made key guest appearances in the following non-Final Fantasy games:
Other media
Games
Users in Square Enix Members Virtual World community can make their character appear as Penelo. Penelo's hair costs 100 crystals and her clothes cost 480 crystals.

Gallery
Etymology
"Penelo" is a shortened version of the name "Penelope". Penelope was Odysseus's wife who remained faithful to him while he was journeying home after the Trojan War.
Trivia
Penelo's sprite is unlocked in the Sky Pirate's Den of Final Fantasy XII after the party has earned over 100,000 gil, granting the player the title of Plunderer.
According to Vaan, Kytes, and Filo, Penelo is a terrible cook.
References