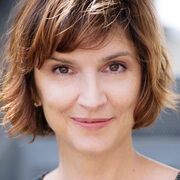 Paula Tiso is an American voice actress. She is the voice of Lulu in Final Fantasy X and Final Fantasy X-2, and Jihl Nabaat in Final Fantasy XIII.
Paula Tiso said that voice acting as Lulu was a challenge for her as she usually got the roles of bubbly women in her commercials. She commented that Lulu was one of her first larger roles in the video gaming. She has also remarked that voicing Jihl in Final Fantasy XIII was enjoyable despite the character not having much time on-screen. Tiso has stated she prefers more villainous characters, as they are fun and, for an actress, Jihl Nabaat was someone she could sink into in regards to whether the character is a subtle type of underplayed evil or greatly diabolical. She also admitted that she does a great evil laugh, as evidenced when the player executes Jihl's Feral Link in Final Fantasy XIII-2.[1]
Community content is available under
CC-BY-SA
unless otherwise noted.