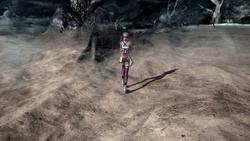 They speak of anomalies—of a strange energy that warps time itself. Things that shouldn't exist here are appearing near the gates. Things that shouldn't happen are happening. They call this phenomenon the 'paradox' effect.

Serah Farron
Paradox (パラドクス, Paradokusu?) is the term used for an anomaly in the spacetime continuum that causes the events in Final Fantasy XIII-2. Paradoxes are believed to be responsible for the apparent overlapping of different time periods, causing unusual types of monsters to appear and otherwise impossible events to occur. They are also believed to cause people to disappear without a trace; the first being Lightning, right after the events of Final Fantasy XIII.[note 1]
Datalog
[
]
Following the appearance of the gate that appeared in New Bodhum in 3 AF, Time Gates began showing up in a multitude of locations. The research institute, the Academy, gave a name to the anomalies that accompany the arrival of these gates and cause impossible things to happen—they called them 'paradoxes.'
In any location where a paradox is present, people report strange occurrences, such as the sudden appearances of unusual monsters, and odd connections to other times and places.
Academy Datafile
With our continuing progress into paradox research, we've come to learn that the future can influence the past. Once events in the future are decided, the past is altered to support that outcome.
For people in the future, the past is like an unopened box. Say, for example, at a certain point in time, someone makes a discovery in a set of ruins and learns a fact about the past. In that instant of understanding, past reality is defined.
But then the question must be asked: who, along the entire span of history, is considered to be 'in the future'?
Story
[
]
Temporal Rift
[
]
To solve an anomaly that distorts a specific area, Serah and Noel can enter a Temporal Rift and rid of the anomaly by solving a puzzle. There are three types of puzzles with at times multiple levels.
Paradox ending
[
]
Paradox endings are alternate events in the timeline unlocked by certain actions taken by Noel and Serah, making them "what if" endings. If they defeat certain enemies without first resolving a paradox, or make a different decision towards certain events in the main storyline when given the option, a paradox ending is unlocked.
Although the paradoxes are said to affect only the timeline after Cocoon's fall, Oerba from before the Catastrophe appears in a paradox ending.
Musical themes
[
]
"Paradox", composed by Naoshi Mizuta, is the second most recurrent theme of the game, behind the main theme, "Wishes". Variants of this theme are "Giant's Fist", "The Story So Far...", "Paradigm Shift", "Song of the Farseers", "Oracle Drive", "Eyes of Etro", "Oathbrand", "Yeul's Theme", and "Time's Master". It is also featured in the "Closing Credits".
Etymology
[
]
[view · edit · purge]A paradox is a statement that apparently contradicts itself and yet might be true.
Notes
[
]