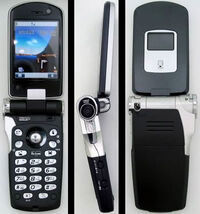 The Panasonic FOMA P900iV is a mobile phone model released in Japan by mobile phone manufacturer Panasonic in 2004, in conjunction with the release of Final Fantasy VII: Advent Children.
Featuring prominently in the movie as the phone used by Cloud Strife, the model was released in three color choices; Bronze Orange, Champagne Gold and Cloud Black.
The model came pre-installed with additional Final Fantasy media, such as animated avatars of Cloud, Tifa Lockhart and Aerith Gainsborough. Short clips from Advent Children, which can be assigned to specific incoming calls, two wallpapers for the main screen and front display (Cloud and Fenrir), two ringtones ("Aerith's Theme", "Melody from FFVII:AC") and two sound effects ("Victory Fanfare" and Fenrir).
Stats
[
]
The model is a clamshell form model with a fold-and-twist flip design.
The model has a CCD camera with a resolution of 1.95 Megapixels on its side, in addition to possessing a 262,144 color QVGA (320x240 pixels) TFT LCD screen as its main display. The external sub-display is 96x64 pixels in size and displays 4,096 colors.
A secondary CMOS camera is located above the main display for video calls while a miniSD card slot is available for storage, with support for up to 128MB cards.
Other additions include; bar code reader, infrared, i-chat, MP3 player, and 384 kbps Internet.
Gallery
[
]
Trivia
[
]