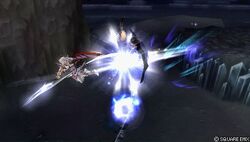 Paladin Force (パラディンフォース, Paradin Fōsu?) is a recurring ability in the series. It is an ability exclusively used by Cecil Harvey, and once copied by Bartz Klauser.
Appearances
[
]
Paladin Force is an aerial physical HP attack for Cecil, learned at level 33. It requires 40 CP to equip (20 when mastered), 360 AP to master, has Melee High priority, and can induce Wall Rush. Cecil shoots a bullet of light that will stun the opponent if it hits, and allows Cecil to attack multiple times before slamming the opponent down.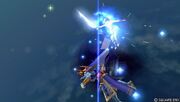 Paladin Force is also used as an aerial magical HP attack by Bartz, learned at level 38. It requires 45 CP to equip (25 when mastered), 180 AP to master, has Ranged High priority, and can induce Wall Rush. It functions identically to Cecil's version, but also grants minor midair Evasion boost.
Paladin Force is an aerial physical and magical HP attack for Cecil, learned at level 22. It requires 30 CP to equip (15 when mastered) and 130 AP to master, but remains identical to its previous version. If the opponent is hit by Searchlight while using the attack, Cecil will zoom to the opponent's location.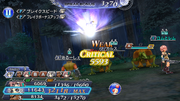 Paladin Force is Paladin Cecil's EX ability. It is obtained by equipping Paladin Cecil with the Waxing Crescent EX weapon or the One Clad in White passive skill.
Paladin force is a single target Light 6 hit Brv+HP attack. It deals 50% splash damage to non-targets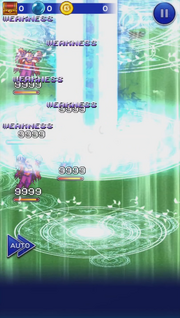 Paladin Force is Paladin Cecil's first Burst Soul Break. It deals ranged physical Holy to all enemies 5 times, infuses Cecil with the Holy element, and grants him Burst Mode. The burst commands are Blessed Weapon and Sacred Circle. Blessed Weapon deals 1 hit of Holy damage to a target and heals Cecil. Sacred Circle deals 2 hits of Holy damage to all targets.
Paladin Force is also the name of Paladin Cecil's Hero Ability, unlocked from his Record Board. It is a Knight ability that deals 5 Holy-element attacks to a single target. It is a physical attack if Cecil's Attack stat is higher than his Mind stat, and is a white magic attack if Cecil's Mind is higher than his Attack. The animation for this ability is based on Dissidia; Cecil throws a ball of light at the target and then strikes with his sword.

Gallery
[
]
Etymology
[
]
[view · edit · purge]The paladins, sometimes known as the Twelve Peers, were the foremost warriors of Charlemagne's court, according to the literary cycle known as the Matter of France. In Final Fantasy IV, Cecil transforms from a Dark Knight into a Paladin, gaining new abilities and growing in power and as a person.