This taciturn girl does not seem to need others for much, yet her great emotional scars prove that she has cared deeply before. The mysteries of her past follow her into her present, but her new friends will stand beside her regardless.

CollectaCard
Paine is a playable character in Theatrhythm Final Fantasy Curtain Call and Theatrhythm Final Fantasy All-Star Carnival.
Gameplay
[
]
Paine appears as an unlockable character, and is unlocked by collecting Turquoise Crystal Shards.
She is an Offense and Defense oriented character. Her Limit Break, Sword Dance, deals damage in proportion to her Strength, Agility and Stamina.
Stats
[
]
Abilities
[
]
Reactive Abilities
Ability
CP
Level
Focus (Lv1)
4
Initial
Counter (Lv1)
5
Level 10
Brawler (Lv1)
9
Level 20
Armor Break (Lv2)
7
Level 25
Focus (Lv2)
9
Level 30
Sword Dance
18
Level 40
Counter (Lv2)
10
Level 50
Brawler (Lv2)
13
Level 60
Armor Break (Lv3)
12
Level 65
Added Cut
14
Level 70
Focus (Lv3)
15
Level 75
Counter (Lv3)
16
Level 90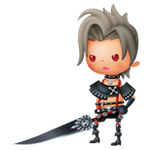 This section about a character in Theatrhythm Final Fantasy All-Star Carnival is empty or needs to be expanded. You can help the Final Fantasy Wiki by expanding it.