Oric's Culinary Chronicles is a series of journals in Final Fantasy XV written by the unseen and eponymous Oric Gambell, a hunter with an interest in cooking who used to stay at the now-ruined Saxham Outpost. Finding them teaches Ignis new recipes. Reading the journal entries also sheds some light on the story of Saxham. This sidequest and its recipes were added in the crown patch.
In the Windows and Royal Editions, the journal entries are collected in the datalog, under the name "Chronicles."
Oric's Culinary Chronicles
Edit
Entry 1: My First Mission
Edit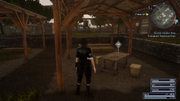 Some first assignment. I've looked up, down, and all around, but I'm loster than lost. (Nothing I ain't used to.) Walking down a road to nowhere while it's coming down cats and dogs. Stomach started growling something fierce, so I fed it a frog. That shut it up good—and the croaker didn't taste too bad going down, either. Fine dining aside, the hunter life ain't all it's cracked up to be.
Entry 2: An Egg Can Dream
Edit
Made it back to HQ hat in hand. Got a pat on the back, and boss bought dinner to celebrate my success. Said the fried egg represented me—"a hatchling hunter," he said. Here I was, feeling down and out, thinking I didn't bag my bounty, when it turns out I ate the critter. Maybe I'm cut out for this hunting gig after all. Hell, I could be the next big thing to come out of Keycatrich since the Wise King! (Or at least his tomb, that is.)
Entry 3: New Friends
Edit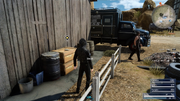 Just as I think I'm getting the hang of hunting, they send me up here to some mountain in Cleigne to find some lost fella from Lestallum, and I got half-lost myself. No ordinary mountain, neither—this here's a fire-spewing volcano! Climbed up and crawled through every inch of this rocky hell to finally find what I came for, a little fella curled up next to a big pool of liquid-hot magma. Said he's been up here for two whole days. Doesn't look like he'll be making it down the mountain under his own power...
Entry 4: Partners
Edit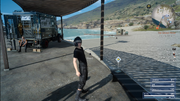 The fella I helped down the mountain and I are on our way back to Lestallum—least I think that's where we're headed. Should only be a little further, but I feel like we're just going around in circles. Fella said we oughta take the road less traveled and follow the river, that the fish'll keep our stomachs filled. Sharp as a tack, this one. Said he wants to be a journalist, but I reckon I oughta make him my partner.
Entry 5: Homeward Bound
Edit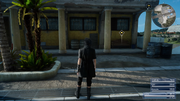 Been ten days since this fella and I set out for Lestallum, and we still ain't made it back. Cooked up that river crawler he and I cracked open. We won't be starving any time soon, but we won't be stuffing ourselves, neither. Fella looks gaunt as a sabertusk; just lucky he don't eat like one. Still, it's slim pickings out here, so I'm looking forward to feasting at the food stalls once we get back.
Entry 6: Moving Out
Edit
Got back to base camp, and first thing they tell me is I'm being reassigned to patrolling some outpost in Duscae. Probably better I stay in one place—can't get lost that way. And who knows? If I make good use of the land, I might go down in the books as a pioneer in my own right. My partner cooked me up some local Cleigne grub as a send-off. Now that's a meal I won't soon forget.
Entry 7: Fishing and Foraging
Edit
Another fella left the outpost today. Can't blame him, what with all the daemons roaming around. Feels pretty lonely, though. I've been fishing down by the reservoir when I get the chance, but there's nothing to catch but carp. Makes a man miss the taste of that Wennath Salmon. HQ said I could leave my post whenever I'd like, but ain't much point in leaving now. Far as I'm concerned, this is home—for better or worse.
Entry 8: The Hero of Saxham
Edit
Sounds like my ex-partner's doing pretty well for himself. Don't even need to subscribe to his magazine since he keeps sending me copies. Ain't so bad, though. The missus loves his recipes, and the little sprat keeps begging me to read him one of those fairy tales at bed time. Can't say why, but all those stories remind me of Leide. Oughta take the family back home and show them old Longwythe. It'll have to wait 'til tomorrow, though: still got a few bussemands to bust up before dawn.
The Dossiers entry for Vyv Dorden (after completing all of his quests) reveals that Vyv was the man whom Oric saved from the Rock of Ravatogh. Vyv never tried to climb the volcano again, but hires Noctis and his retinue to photograph it. Oric's Culinary Chronicles is published by Vyv's Meteor Publishing company.
Community content is available under
CC-BY-SA
unless otherwise noted.