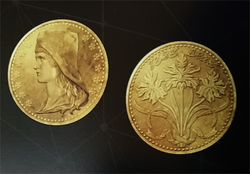 A coin issued to commemorate Lunafreya's ascension as the Oracle. It is a limited-run minting.
—Item description
Oracle Ascension Coins are coins issued to commemorate Lunafreya Nox Fleuret's becoming an Oracle in Final Fantasy XV. The coin displays an Oracle on one side and sylleblossoms on the other with the text "Tenebrae".
The coin Ardyn Izunia gives to the party in Galdin Quay (called "Intricate Coin" in the key items inventory until later), is an Oracle Ascension Coin, and Dino Ghiranze explains that he was handing them out to many people. Further Oracle Ascension Coins can be picked up from around the world and exchanged in Altissia for accessories and other items.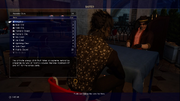 The player can exchange the Oracle Ascension Coins they have collected with Barter at the cafe in Altissia where Justice Monsters Five is also playable (right by Palsino Street Station on the gondola). New items, most of them Auto Parts, were added in patch 1.21, marked with a * in the list below.
Acquirement
Edit
Ardyn throws the party an "intricate coin" at Galdin Quay. After delivering the Garnet Stone to Dino, he explains its purpose, and it is added to the player's inventory as an Oracle Ascension Coin.
The player can acquire a number of coins by negotiating with Camelia Claustra. How many they get depends on the success of the player's negotiation: the best outcome nets 4 coins.
After defeating adamantoise, if the player talks to Dave, he will take the player to the local Crow's Nest Diner where Noctis's acquaintances yield an Oracle Ascension Coin each, totaling to up to 14, depending on how many acquaintances the player has made.
Though the coin appears gold-colored in the artwork shown in the book that came with the Collector's Edition, the in-game model of it is a silver coin.
External links
Edit
Community content is available under
CC-BY-SA
unless otherwise noted.