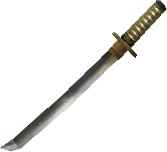 Ninja blade that shines silver like the moon.

Final Fantasy VI description
Oborozuki (おぼろ月? or 朧月, Oborozuki?, lit. Hazy Moon), also known as Blurry Moon and Rogetsu, is a recurring ninja blade in the series. It is often the most powerful ninja blade when it appears.
Appearances
Oborozuki is the strongest ninja dagger, providing 225 Attack, +7 Strength, +7 Speed, +50% Evasion, +10% Magic Evasion, has two-handed compatibility, and enables Runic. It can only be equipped by Shadow, and can be dropped from Flan Princess, or by betting the Zwill Crossblade in the Dragon's Neck Coliseum and winning the match.
Blurry Moon is a weapon for Auron, obtainable if the dominant ability on any katana is Darktouch.
The Rogetsu is the third stage of five in the quest to obtain Kikoku, Ninja's Relic Weapon. In order to obtain Rogetsu, a player must obtain the second stage weapon (Mimizuku) and trade it along with a Wakizashi, a Kabutowari, a Sakurafubuki, and 16 Lungo-Nango Jadeshells to the Goblin Switchstix. Rogetsu's actual stats are as follows: a one-handed Katana usable only by level 75 or higher ninjas with weapon damage 33 and delay 227; in Dynamis, these become damage 40 and delay 227, with an additional +9 to dark elemental resistance. Rogetsu is in turn intended to be upgraded to the fourth stage, Yoshimitsu.
Blurry Moon is a level 99 parrying armor that provides +1 Attack and +72 Defense. It can be obtained from the shop by trading 32,750 gil, Kagenui, and Maduin's Fang x5.
Blurry Moon is a level 100 parrying armor that provides +1 Attack, +72 Defense, and BRV Boost on Block +5%. It can be obtained from the shop by trading 177,840 gil, Kagenui, Mimizuku, and an Omega Skeleton.
Gallery
Etymology
Oborozuki in Japanese means "hazy moon". Within the discourse of Japanese art and aesthetics, it is also considered a sign of spring, compared to the full bright moon of autumn. In recent years, it has taken a romantic and fantastical association with that of ninja in popular culture.
Community content is available under
CC-BY-SA
unless otherwise noted.