Nunchaku (ヌンチャク, Nunchaku?) are a recurring weapon in the Final Fantasy series that appear as pair of sticks joined together by a chain or rope.
Nunchaku are eastern world hand-to-hand fighting weapons, making the use of short rods and staves to be flailed and swung to inflict damage. While also consisting varieties like the tripartite sansetsukon, they may also cover truncheon weapons like tonfa, and even similar weapons with different features and designs.
These weapons are often wielded by Monks and their related classes.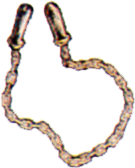 Nunchaku appear as weapons for Monks, Masters, and Ninja. Due to the way Barehanded damage is calculated for Monks, however, equipping nunchaku will actually decrease a Monk's attack power after early levels.
List of nunchaku:
Three types of nunchaku that are available in the beginning of the game as a weapon for Monks. These weapons are only found in the original NES version, having been removed for the 3D remake.
List of nunchaku:
Nunchaku (Male) wields nunchaku as his weapon of choice.
List of nunchaku:
Shelke the Transparent uses EM Sabers that are attached to a rope similar to a nunchaku, though they closely resemble the iconic lightsabers of the Star Wars franchise.
Selphie Tilmitt uses an over-sized nunchaku as her weapon of choice. They are referred to as 'Shinobou' in the English PAL version, as at the time, nunchaku were illegal in the UK. In the Italian, German, Spanish and French versions, they're still referred to as 'Nunchaku'.
List of nunchaku:
There are two nunchaku that appears.
List of nunchaku:
Community content is available under
CC-BY-SA
unless otherwise noted.