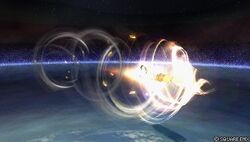 Nullifying Dropkick (崑崙八象脚, Konron Hasshōkyaku?, lit. Kunlun Eight Images Leg) is a recurring ability in the series. It is an ability used by Prishe, and so is often seen by her in each of her appearances throughout the series.
Appearances
Edit
Nullifying Dropkick is an ability exclusive to Prishe, who fights alongside the player in the Dawn Chains of Promathia mission, and against the player in the exclusive Heroine's Combat battlefield event. When used in the Dawn event, Nullifying Dropkick is the only ability that will shatter Promathia's physical or magic invulnerability from his Wheel of Impregnability and Bastion of Twilight abilities. When using it, Prishe will say "You can't stop the flood of mortal existence!"
You can't stop it!

When used
Nullifying Dropkick is a HP Attack for Prishe, learned at level 12 and requiring 130 AP to master and 40 CP to equip (20 when mastered). It has high melee priority and induces Wall Rush, as well as tracks the opponent's movement.
Prishe's Nullifying Dropkick is a premium skill—used in wisdom mode—to remove physical and magic resistances of an enemy for three turns.
Prishe uses Nullifying Dropkick as a Legend ability.
Nullifying Dropkick is usable by one of Prishe's cards. For one Earth CP and the discard of a Prishe card, Nullifying Dropkick deals the opponent one damage when Prishe Breaks a Forward the turn it is used.
Community content is available under
CC-BY-SA
unless otherwise noted.