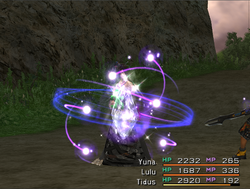 Shield us from frigid blight.
NulFrost (バコルド, Bakorudo?, lit. Barcold), also known as Dampen Cold, NulIce, or AICE, is a White Magic spell that grants the NulFrost status.
Starting from Final Fantasy XI, a similarly named spell known as Barblizzard (バブリザ, Baburiza?, lit. Barblizzar) appears as a replacement for NulFrost in later installments.
Appearances
[
]
Reduces ice damage by half.

Description
NulFrost (AICE on the NES and NulIce in Final Fantasy Origins) is a level 4 White Magic spell, which reduces Ice-elemental damage inflicted on all allies by half.
The spell can be bought at Elfheim and can be learned by the White Mage, White Wizard, Red Mage, and Red Wizard job classes. In the Dawn of Souls and 20th Anniversary releases it costs 8 MP to cast.
NulFrost is one of the first spells Yuna can learn on the Sphere Grid and bestows the NulFrost status. NulFrost can be cast by Guado Guardians when fighting alongside Bombs in Home.

This section about an ability in Final Fantasy Record Keeper is empty or needs to be expanded. You can help the Final Fantasy Wiki by expanding it.
Gallery
[
]
This gallery is incomplete and requires Final Fantasy X (PS3) added. You can help the Final Fantasy Wiki by uploading images.