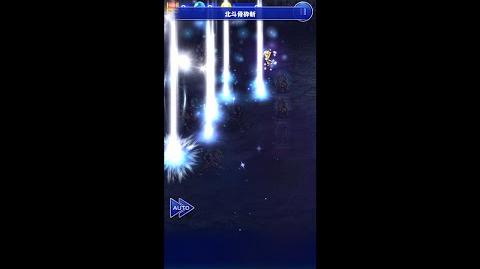 Northswain's Glow (北斗骨砕斬, Hokuto Kossaizan?, lit. North Dipper Bone Smashing Slayer), also localized as Nordswain's Glow, is a recurring ability in the Final Fantasy series. It is Ashelia B'nargin Dalmasca's trademark Quickening, first appearing as her level 1 Quickening in Final Fantasy XII.
Appearances
Edit
Nordswain's Glow (Northswain's Glow in the original release) is Ashe's level 1 Quickening. It deals damage equal to a random number between 1 and 90 multiplied by Ashe's Strength, and costs one Mist Charge to execute.
Northswain's Glow is Ashe's STR-classified ability. It has 680 Attack, 670 Defense, and Normal growth.
Northswain's Glow is the ability that is used by Ashe during battle.
Northswain's Glow is a Unique Soul Break for Ashe. It deals non-elemental magic damage to all enemies, and slightly heals all allies. It can be learned by equipping Ashe with the Rune Blade (XII). It costs one Soul Gauge to perform and takes 10000 to learn.
Northswain's Glow is an active ability exclusive to Ashe learned by her 5★ variant at level 80. It deals magic damage (2.3x) to all enemies and cures all status ailments to all allies.
Etymology
Edit
[view · edit · purge]Hokuto is Japanese for "North Star" and refers to the constellation Big Dipper, which is associated with the celestial palace of the heavens and death in Eastern cultures. The attack's Japanese name has a similar naming convention to Kenshiro's techniques in Fist of the North Star.
The attack's name is derived from that of Northswain's Strike, an ability from Final Fantasy Tactics.
Community content is available under
CC-BY-SA
unless otherwise noted.